Edward L. Woods, Top Entertainment Attorney, Manager and Entrepreneur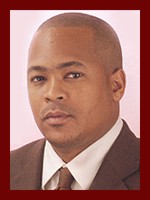 Peers no longer call Ed Woods an "up-and-coming" attorney; no, Mr. Woods has unequivocally arrived as one of the top entertainment attorney lawyers and business leaders in the country.

Currently the Executive Vice President at Casablanca Records, Edward L. Woods, Esq. has been practicing law in New York City since 1994. With a primary focus on contractual deal making and negotiations on behalf of recording artists, records producers, songwriters, record industry executives, independent record labels and recording studios, Mr. Woods has established himself as a major force in the music and entertainment communities. Mr. Woods' ascendancy was reinforced by his recent election as President of the nationally renowned organization Black Entertainment and Sports Lawyers Association (BESLA), after serving the last five years on the board for the organization.

In September 2000, Edward L. Woods, Esq., co-founded the firm of Woods & Middleton, LLP. It was at Woods & Middleton that Mr. Woods' influence within the entertainment industry grew; within two years Mr. Woods was supervising over 75 clients based in recording, publishing, film and television industries, and negotiating multi-million dollar deals on a regular basis. Mr. Woods also developed an unequaled reputation for attracting new clients, understanding both the "big picture" and archaic nuances of industry deals, and for being a fair but hardball negotiator. The latter quality was a trait honed by Mr. Woods while growing up on the streets of Queens.

Ed Woods quickly developed a long client roster of platinum producers, recording artists, independent labels and Grammy award winning songwriters. These included: superstar multi-Platinum artist and actor DMX, Bad Boy Hitmen Producers, NBA superstar Allen Iverson, R&B divas Stephanie Mills, Angela Winbush and Kelly Price, Blackground Entertainment (Aaliyah's record label), FUBU, and legendary boxing promoter, Butch Lewis.

Having conquered the legal profession and seeking to expand an already vast knowledge of the music industry, Mr. Woods left private practice in 2005 to become Executive Vice President of Black Music at Casablanca Records. Mr. Woods reports directly to renowned music executive and Casablanca founder Tommy Mottola, and is responsible for identifying and developing new talent, coordinating the production, promotion and release of new music, and overseeing the record staff. Most important, Mr. Woods will stamp his dynamic urban music imprint of street knowledge and unparalleled industry success on the Casablanca label.

Mr. Woods, is a 1994 graduate of Howard University School of Law (J.D.), a 1991 graduate of Hampton University (B.A.), and currently is a member of the New York State Bar.
I met Ed Woods at his New York City office on Fifth Avenue, that part of Fifth Avenue where Christmas is at its most beautiful. He was gracefully juggling meetings and phone calls which I assume, for him, is pretty typical.

As we sat down to talk I couldn't help but notice how refreshingly comfortable Ed seems to be in his own skin. He is clearly someone who could, as a result of the games he plays and the arenas that he plays in, be a bit self conscious and self aware. He is someone who could get away with being arrogant or dismissive, busy or stand-offish. He is none of these things. Ed Woods is charming and -

easy to be with.

And yet, he has a definite edge about him that comes from having a bold sense of authentic self confidence, an edge that resolves the question:

What's a nice guy like you doing in a place like this?
DR: Tell me about your life and about your work.
EW: I am an entertainment attorney.
I have practiced law for almost 13 years. I went to Hampton University as an undergraduate and Howard University for law school. Upon graduating I moved back to New York where I went to work for a firm called West Entertainment Services. Louise West. I worked for Louise for about four months before I decided that I needed to be running my own business.
Running my own business was something that I think was instilled in me as a child. I grew up in a working class neighborhood. My father owned his own gypsy cab car service. Watching him, even though it was kind of a poor man's taxi service, made me realize that I was destined to be my own boss.
I started my own practice with no clients.
I put it together with a partner of mine, Reggie. We borrowed a couple hundred dollars from one person to buy the fax machine, another couple of hundred dollars from another person to pay for the computer, Reggie used his tax return to pay for the office rent…but after four years we were able to build a practice that allowed us to sustain, not only a certain lifestyle, but also allowed us to be able to hire other lawyers to work for us.
I eventually merged with another firm. That lasted for about four years. All together I spent eight or nine years practicing law and hired at least twelve lawyers who were basically first year graduates out of law school, all of them Black lawyers, out of predominantly Black colleges. We gave them the shot that they might not have otherwise gotten and they went on to practice law for other firms or became Director of Business Affairs for companies like BET or VH-1. Obviously the training that we provided was training that the industry respected.
About three and a half years ago, through relationships that I had developed while doing deals with Tommy Mottola, who was the former chairman of SONY and who was starting his own label with Universal, which is Casablanca Records...I established a good rapport with Tommy Mottola and he asked me to come aboard and I did as Executive Vice President for Urban Music at Casablanca. I served in that capacity for three years.
Six months ago my role changed. I am now more of a consultant to, what is now known as, The Mottola Company. I am a consultant and we also have partnership arrangements as managers. For instance, we manage Cassie.
CASABLANCA MUSIC



Click here to learn more about Casablanca Records
Cassie is a female artist. She is nineteen years old and she had a number one record on radio this year - Me and U. We manage her together.
I also manage a producer by the name of Ryan Leslie, who is an artist, producer, song writer, Harvard graduate - the whole music industry is buzzing about him. He is the one who produced Cassie. He has also produced Danity Kane, Beyonce, Brittany… this is a guy that I am doing business with and helping him to nurture his career.
My goal starting in January is to do more on the management side. I will still provide legal services to very specialized clients who I have developed relationships over the years. I'll come in as kind of a "special ops" guy on major renegotiations or the structuring of an overall deal. There are certain clients that I will still service in that way on a day-to-day basis.
My focus has always been on the bigger deals and I am looking to expand what I do. I have represented a large part of the hottest producers in the music business over the last twelve years. I originally represented all of the The Hitmen producers for "Puff" when he first started Bad Boy.
Now what I am trying to do is merge business and create what I consider to be a full fledge management consulting and entertainment company that will cover all areas of the music and film industries. The music business is changing. Its becoming more of a phone business so what I am trying to do is create a company that will connect relationships but at the same time to start to build a library of content that I can then outsource. Everything will always tie back to the main focus of servicing clients in the entertainment business.
DR: What are you the happiest about right now?
EW: I serve as president of the Black Entertainment and Sports Lawyers Association and for me serving as president and getting a chance to see young students, sitting in an audience, reminding me of when I was first starting out, allows me to recognize how far I have come.
Sometimes you forget how much you have achieved when you get caught up in the day-to-day grind. You've got to remind yourself of how far you have come or risk becoming complacent because you think that you are not moving ahead. To speak to an audience that, twelve years ago, I was sitting in that audience -
that is rewarding.
DR: What is a single word that you would use to describe yourself?
EW: Confident.
You want another one?
(Laughs)
DR: Well first tell me about why you would use the word "confident".
EW: Sometimes the line between confident and cocky gets blurred.
I operate with a sense of confidence. When I walk into a club or a lounge or a restaurant, I walk in with a certain presence. I am not pretending. I am not "glad" to be in the room with people. I can "sit at the table" and I am not clicking my heels because I am glad to be there. I feel like I have earned the right to be able to sit down with whoever as peers. Obviously I realize that there are people who have achieved more than I have and I respect them for that but, I feel like I can rock with the best of them...
DR: You probably started out with a little bit of that confidence. Besides being confident, what is it that you have gotten from being in the trenches that has you sitting in a room feeling like you have earned the right to be there or that you are not grateful to be there.
EW: I believe that I have just had good guidance. Whether it has been from my mother or father or other people who have been mentors, like Butch Lewis and Bob Johnson, guys that I have built relationships with…I step back and actually view how they conduct themselves and say "O.K'. This is the way that I would like to handle myself." I am the guy who gets my hands dirty and I have a lot of common sense. I have good common sense.
I think I picked that up common sense as a young kid.
I used to drive a gypsy cab as a kid. When I was sixteen years old my father told me that if I wanted a couple of dollars I was going to have to "go to work". So I got behind the wheel and started driving before I was technically supposed to.
Being in the front seat of a taxi cab in the neighborhood that I grew up in - you had to read people from the moment that they got in the car. I had to determine right away if people were going to pay me, or stick me up or whether they were the Taxi and Limousine Service that was going to arrest me for driving to young…I had about a five second window in which to assess all of this.
Also, I had to constantly create conversation.
Whether it was with a grandmother going to the church or the single mother dropping her son off at school, I had to be able to change the dynamics of a conversation and that allowed me to expand my ability to interact.
When the lights go on, when it is time for me to do what I do -
it's show time!
DR: Is there anything right now that you don't have that you want?
EW: Absolutely.
It is all about ownership for me. At the end of the day I want to sit on various boards of corporations. I am not looking for the short term plateau. I want to be one of the most successful people in the world and I am going to keep aspiring until I get to that point.
When I have my own plane, when I have homes all over the world, when I can say of the Woods that will come after me have the same opportunities that a Hilton has or a Trump...
DR: Besides planes, houses and leaving a financial legacy, what are some of the other things that you would use to define what success is for you?
EW: I believe that this world is built around money.
I mean it is what it is, AND you can do a lot of good with money. It hurts when you see the things that are going on in Africa or see what happened as a result of Hurricane Katrina and not be able to do something about it. I want the kind of power that I can use, for instance, to go back to my neighborhood in Jamaica, Queens and tell everybody in my neighborhood that their home is paid for, and have that be an opportunity for them to have a chance to leverage that gift.
That is the kind of difference that I want to make. You can't cure the whole world but I think that everyone is obligated to give something back.
DR: What is your ultimate dream or vision?
EW: It comes back to family for me.
All the things that I do business-wise, it still comes back to family. When it is all said and done I want to be able to say that I worked hard and that I was able to build something for my kids, when I have kids.
You are asking me this now and its Christmas time and I get really sentimental at Christmas…
DR: Is there anything that you are afraid of?
ED: I am afraid of not finishing the things that I want to finish. As far as the normal fear, I believe in "taking the fear out of my heart".
I don't fear men.
DR: Do you live everyday fully?
EW: Everyday.
In this industry you can actually become caught up in a way of life that becomes unhealthy. I work hard and I play hard because it is about balance for me.
DR: A hundred years from now what do you want to be remembered for?
EW: There is a professor who I don't know and never met but a guy that I heard once giving a speech referred back to this professor who challenged that -
"you should want to do what you do so well that no man living, no man dead nor any man yet to be born can do it better"
He was referencing something that was said forty or fifty years ago…
I want to be remembered as -
a man who raised the bar and set a higher standard.
Thanks Ed!
BESLA


BESLA is an international organization of lawyers and other entertainment and sports industry executives in support of a more diversified, expert and informed group of entertainment and sports industry professionals.

Our purpose is to...

Open pathways to economic and decision-making parity in the sports and entertainment industries for legal and creative talent representatives.
Provide an effective network of high-impact professional and business relationships and information-sharing.
Facilitate legal and business affairs employment and business opportunities for people of color.

For additional information on BESLA, visit http://www.besla.org.