Harmonicist, Frederic Yonnet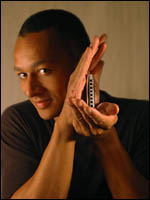 When it comes to the harmonica, French-born harmonicist Frédéric Yonnet knows how to turn skeptics into believers. Most people perceive the harmonica as a "side" instrument used in country and blues. However, Yonnet is one of a handful of musicians to successfully demonstrate the harmonica's versatility as a lead instrument in contemporary jazz, as well as other genres of music.

Just listen to his sound. It funks. It rocks. It hips and hops. It grooves. It sways. It testifies. It prays. It has a reverence for blues and jazz while appealing to a generation raised on pop, rock and hip-hop. The attention and praise he has garnered from such popular generational icons as Stevie Wonder and Dave Chappelle as well as performances with Erykah Badu, John Legend, India.Arie and Joe McIntyre has helped to expose him and his unique sound on the harmonica to a wide and diverse audience.

Born in Normandy, France, Yonnet picked up the harmonica after a short stint as a drummer.

In France, Yonnet devoted all of his time to performing in Parisian jazz and blues clubs. Yonnet was a frequent guest musician on "Nulle Part Ailleurs", a show on the French television network Canal +, and he eventually began touring Spain, Germany and Africa with jazz, rock and country bands. During a visit to the U.S., Yonnet jammed at a club and he was totally blown away by the reaction he received from the audience.

Yonnet's latest CD project positions the artist where he and his music deservingly need to be -- Front and Center. The harmonica takes the lead when Yonnet brings it out front and demonstrates its versatility and range.

His high energy and ability to play chromatic scales on the diatonic harmonica gives Frédéric Yonnet an unlimited range of notes and sounds, of which he takes full advantage. He demonstrates his command of technique and skill by masterfully bridging the gap between the diatonic and chromatic harps -- impressing fans of both.
To simply talk about Frederic Yonnet is to miss the point of his extraordinariness. Words fail to fully capture the beauty with which he expresses himself.

As a child, Frederic struggled with asthma, making it difficult for him to catch his breath. Today he has turned that struggle to triumph by breathing new life into an instrument that has obviously been taken for granted, while challenging people to reconsider the reality of their own personal limitations.



Click here to listen to Frederic play before you read what he has to say...
DR: Tell me about your life and about your work.
FY: Let's start at the beginning...

I was born in France - in Normandy. Rather early in my life I developed a growing passion for music. I would feel things when I was listening to music, jazz and R&B especially, and I realized that I was really getting into it more than anything else. My parents noticed that I was interested in the arts and so they tried to direct me toward theater and acting. I think I was pretty good at it but what I was really attracted to was music.

When I was a teenager I started taking drum lessons but I later felt the need to express myself harmonically more than rhythmically so I picked up something that was pretty convenient to carry around and quite inexpensive -

the harmonica.

I realized by spending time playing the harmonica that it was an instrument that was not being explored like it could be. The techniques that musicians were using on harmonicas were pretty basic. I figured out pretty quickly that there was a huge gap that needed to be filled, and I am starting to feel like maybe I am having something to do with expanding the way that people think about the harmonica.

I started practicing very hard and eventually I was hired to play with a lot of bands in Paris. I was touring around Europe and playing a lot of stereotypical types of songs relating to the harmonica - blues, country...

I was working in about 10-15 bands in Paris before I came to the United States, where I first had the idea of really taking the harmonica and making it my project. I wanted to take the harmonica and turn it into a lead instrument inside my band.

That is what I have been working at since I have been here for seven years now.
DR: What does it mean to you to be inspired?
Yonnet Joins Prince on European Tour



Prince fans either love'm or hate'm

Prince kicked off his European tour this weekend and Yonnet is feeling the love from his homies -- well at least most of them.  While Prince fans are excited about this long-awaited tour, some have much to say about the addition of the harmonica as the guest soloist in the lineup. Check out what Prince fans are saying about Yonnet on Prince.org and add your 2 cents into the discussion.

Tour Dates:

07.04.10 - Roskilde Festival, Denmark w/ Prince
07.05.10 - Waldbuhne, Berlin, Germany
07.09.10 - La Citadelle, Arras, France
07.10.10 - Werchter, Belgium
07.12.10 - Stade de la Praille, Geneva, Switzerland
07.13.10 - Linz Gugl Stadion, Austria
07.18.10 - Sesimbra, Portugal
07.25.10 - Nice, France
FY: Being inspired to me means being aligned with myself. Being inspired means getting into that zone where I get connected with my musical vision.

There is a place in my head where music comes naturally and where it comes too fast for me to comprehend; where it takes a lot of concentration because I have to recognize the obstacles when they come so that I can overcome them and get back to the place of being inspired.

Being inspired is fighting the obstacles to get back to the point of total relaxation so that I can get to my music.
DR: What does it mean then, to you, to be inspiring?
FY: It is important to me to be able to connect with people through the stories that we share. For example, a musician migrating to the United States, trying to make a career, I would feel like we shared the same story. Or, a child who has asthma, because I had asthma for the longest time, I would feel connected with that person. Also there is this involuntary inspirational side to my art that gets expressed when people come to me after a performance and share their hearts.
DR: Well you are incredibly inspiring. That goes without saying. Is that important to you - to be inspiring?
FY: Well, it is a direct consequence to my art. It is not something that I am trying to focus on but it is great to know that it comes with the package.
DR: Well if the focus is not on being inspiring, what is it that you do focus on?
FY: I focus on the beauty of whatever comes out of me.

I have a true love for whatever is happening inside my head musically and I try to deliver that as much as possible to my audience. What I focus on is my technical ability on the instrument so that the roughness becomes a shine; a glow.

Constant improvement is what I focus on.
DR: I was reminding my daughter a couple of weeks ago, to practice her violin and when she made a face at me, I reminded her that it's a privilege to be able to speak the language of music - beautifully...
FY: Music is an international way of getting straight to other people's souls. No other language can get as deep as music can...
DR: And when music really does cut to your soul and speaks to you profoundly, there are no words because music really is its own language, don't you think?
FY: Yes.

So to answer your question, what I am focusing on is communicating the passion that I have for music and for the instrument.
DR: You are so lucky to be able to do that...

What do you value the most right now?
FY: My spontaneity.

I like to improvise a lot, in my music and in my life. I really like to "flip the script" as often as possible because spontaneity brings people to the edge and creates something unique. I like that side of me.
DR: What is the quality that other people appreciate most in you?
FY: The warmth of my spirit. And I think that people are very sensitive to my generosity.

I keep going back to the feeling that I get from the audience after a performance. After a show people will come to me and tell me things like "You blew my mind". I think my music is refreshing to people.

I like to think that I refresh the spirit.
DR: When you think of yourself, do you define yourself primarily as "musician, and, if not, then what?
FY: "Musician" is only a part of me. It's not the whole part.

Part of me has to be a musician to be who I am but it is only about thirty percent. I am more of an artist than a musician. One side of me gets expressed musically but I have a bunch of ideas all the time bouncing in my head and all of it happens with music in the background.
DR: When people look at you what do you hope that they will see?
FY: I hope that they will see a part of themselves and I hope that they will see that the limitations in life are not within the instruments that they have but rather, within their thinking.

I definitely think that anything can be used for its original purpose but also for all of the other purposes that have not been discovered yet.

I hope that looking at me will open people's eyes.
DR: What is something that you have recently learned about yourself?
FY: I thought that I was good at recognizing and accepting my fears and fighting them, but sometimes they come creeping back so I learned that my fear is something that I can't take for granted. I want to understand my fears so that I can embrace them and build on top of them so that they don't slow me down.

I also discovered that I have a huge problem with authority.
DR: I have made that discovery too...

Is there, for you, a difference between happiness and success?
FY: Yeah.

"Happiness" can happen whether you want it or not; whether you work on it or not. "Success" is something that you work toward and something that you keep pushing for until it happens. It takes effort and consistency and courage and strategy. "Happiness" is the fruit of things that can sometimes be unexpected. It's linked to expectation, to a degree.
DR: Do you think "happiness" is like a choice?
FY: Yeah...like a choice.
DR: I feel like we have more control over whether or not we are happy, than whether or not we are successful.
FY: Also, success is very subjective. Your definition can be different than mine. You can think of success as being happy. On the other side, failure can be never trying and success can be giving everything you have.
DR: A hundred years from now what do you want to be remembered for?
FY: As a turning point.

I want to be the guy that, when everybody else was playing blues, decided to go the other way. I want to be remembered as the guy who played the happy harmonica and who made the instrument hip.
Thanks Frédéric!
Harmonic[Art]

Originally established in 2002 as a educational seminar funded by the DC Arts Commission, Harmonic[Art] has since grown into an organization committed to fostering a greater appreciation, awareness and understanding of the harmonica. The mission is carried out through the presentation of original educational programs, captivating concerts and informative clinics, workshops and master classes. The objective of Harmonic[Art] programming is to promote the harmonica's contributions to all genres of music and to highlight its ongoing vitality and relevance as an art form.

Click here to learn more...