Talk Show Host and Chef, Charles Mattocks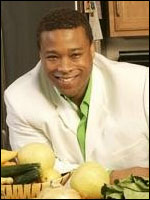 At the age of 16, Charles saw LL Cool J performing in a video on TV and committed himself at that moment to pursue a career in music. Taking a part time job in order to make enough money to buy a car, he learned where the rapper lived and drove to his home unannounced. This act of bravado impressed the superstar and soon he had taken the young Charles under his wing and the two ended up performing together on albums and videos. Charles' rapping skills caught the eye of famed Tommy Boy label, home of the hit group Naughty By Nature, where he released a single called "Check the Game."

Charles found many doors opening, including those in the acting world. On his second audition he landed a part in the hip-hop themed film "Fly By Night." He quickly earned his next role in the made for television movie "Daybreak" which starred Cuba Gooding Jr. and Omar Epps. His first starring role came in the Hallmark Hall of Fame movie "The Summer of Ben Tyler", working opposite James Woods and Elizabeth McGovern. The film was nominated for a string of critics awards and prompted the New York Times to say that the role of Ben Tyler was "...played to endearing perfection by Mr. Mattocks".

Charles moved to Los Angeles to pursue his career and quickly landed a starring role in "The Journey: Absolution".

When asked by his son, why there didn't seem to be any "real" people on cooking shows, a light went off and Charles set about creating a program that appealed to the vast majority of Americans that neither have the time nor means to create the types of menu ideas offered by the current crop of cooking shows.

The result is "The Poor Chef," a unique cooking show based on the premise of creating tasty, creative and nutritious meals for two while spending less that $7.00. Soon local television stations began calling him for guest spots to show audiences how best to create inexpensive menu items, which has led to his current position as the host of a weekly cooking segment based on the "Poor Chef" format, as seen on the morning show "Daytime," which is syndicated to eight, NBC affiliates throughout the Southeast.

Charles has struck a chord with audiences wherever he appears and looks forward to the day when "The Poor Chef" takes viewers into homes from Beverly Hills to Brooklyn to enlighten, educate and entertain.
It is almost hard to believe that anyone can cook an entire meal for two people with just seven dollars, but that is the promise that Charles Mattocks continues to make good on as he works his culinary magic on his television show The Poor Chef. Charles has carved out a niche for himself as he answers the call to help people on a tight budget create delicious meals. His background is as diverse as his talents and it didn't take long for me to appreciate that his charisma and self confidence have played a major role in his success...
DR: Tell me about your life and your work.
CM: The last two years have taken me to a place where I want to give back.

The Poor Chef is one way that I have looked to give back. I want to help people cook right and eat well, but I also want to help educate people about health and nutrition - especially children. I think that kids come home from school nowadays and just eat quick junk food and head out. Even water - the lack of good healthy clean water is something that concerns me. All of these things have led me to create The Walk with Wellness.

The Walk with Wellness is a movement that I have created with a Noble Peace Prize nominated plastic surgeon. It is designed to create awareness about everything that goes into your body and everything that can help your mind. We are creating a platform with a website that will be up soon and a radio show as well. What we are doing, to me, is a cross between Oprah, Dr. Phil and The View. We are tackling awareness. There are a lot of people looking for answers and we are trying to pull together the best people in the world to find the answers to people's health questions.

I am driven by hard work and discipline. I have always wanted to do something that would touch the world and to give back.
DR: What do you wish that you could change about yourself?
CM: What do I wish that I could change about myself (Laughing)?
DR: Yeah. We all have something...
CM: I wish that when I was younger I was more accountable to people's feelings.

I grew up in New York. I was this really cute little kid that everybody liked and some times I just wasn't attentive to people's feelings. When I look back now I wonder who I hurt or who I let down. I look back and want to change those years when I wasn't so concerned about other people's feelings.

I have learned to be less selfish as I've grown.
DR: What was one of the wisest things that anyone has ever said to you?
ABOUT THE SHOW

The Poor Chef
Eat cheap, but eat well.

The Poor Chef is a cooking show designed with everyday people in mind. We celebrate the penny pincher in all of us, because whether we care to admit it or not, we have all at one time or another looked to save a dime. One of the principles of "The Poor Chef" is to feature some of the best dishes in the world made by some of the most creative characters small towns and big cities have to offer.
CM: I don't think that it is really a matter of anything that anyone has ever said to me directly, but things that great people have said that I remember -

Martin Luther King said that "If a man hasn't found something that he is willing to die for, he isn't fully alive".
DR: What are you willing to die for?
CM: My son, my family...

I have a faith in God...these are the things that drive me. Not so much success but these things.
DR: Is there anything that you know "now" that you wish you would've known "then"?
CM: Not to get in my own way when it comes to success.

It takes a team to be successful and sometimes you have to let the team work and not rush things. A lot of times I have been in situations where, if I would have been more patient, things would have worked out perfectly. But because I have wanted it today, I have actually gotten in my own way.

Sometimes you just have to be patient and wait for "it", instead of being an obstacle for yourself.
DR: Will you share with me something about you that most people would be surprised to know?
CM: I don't crave the limelight.

Ultimately I want to live on an island and lead a very simple life. When people see me on TV they think that I am totally different than what I am. What I exude on TV is this energetic, charismatic person that loves the spotlight. But, I am really just a quiet guy and I'd rather live on a beach somewhere and live a simple life.
DR: Is that part of what you look forward to?
CM: I pray so. I would love to buy my way out of business.

When I first started out I was in music and I did very well. I was nominated for an Emmy as an actor...

When you are starting out you are happy if you are making five hundred dollars a week. Then you move up and you're happy if you make a thousand dollars a week. Then you move to a level where you're making ten thousand dollars a week and now you're mad that you're not making ten million dollars a week.

You've got to know where your content level is and when enough is enough.
DR: And what would be enough for you?
CM: I just want to be satisfied and pay my bills and support my family. If I'm going to live on an island then I'm not so stressed out about what kind of car I'll be driving...
DR: What is your idea of a perfect day?
CM: Waking up at 9:00 and not leaving the house until 11:00, going to take care of business and coming home to the family at 1:00, swimming and then reading...

That is not a reality for me but at least I can imagine it.
DR: What do you believe most to be true?
CM: That we all have a hope for something better and that everybody has good in them and -

change for the better will come soon.
DR: A hundred years from now what do you want to be remembered for?
CM: For being a man who worked hard and encouraged others to work hard. I want to be remembered as a pioneer, but most of all -

for being a loving father and a good husband.
Thanks Charles!
WATCH THE POOR CHEF



The Poor Chef can be found on NBC's "DAYTIME" show in:

WFLA/ Tampa, FL
WRBL/Columbus, GA
WNCN/Raleigh, NC
WCWJ/ Jacksonville, FL
WSAV/Savannah, GA
WCBD/Charleston, SC

Please check your local listings for times and dates.

Don't forget "Eat Cheap But Eat Well"