Singer, Songwriter, Dancer, Stylist, Wunmi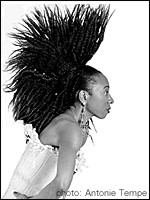 In the world of dance music, Wunmi is a one-off, an artist that effortlessly joins the dots between Nigeria's Afrobeat heritage, New York's house pedigree and London's jazz, broken beat and classic street soul sounds. In 2006, after over 10 years of classic collaborations working with production heavyweights like Masters At Work, Seiji and Truby Trio, Wunmi is finally heading solo with her much anticipated debut album.

Born in London, Wunmi lived in Nigeria for 10 years, returning to the UK aged 14. The enduring image from Wunmi's early years in music was in summer 1986 as the dancer silhouetted in Soul II Soul's 'Back To Life' video. As an integral dancer within the Soul II Soul set-up, Wunmi quickly established a bold, self-styled image with flowing braids and her own outrageous clothes which became a valuable addition to the Funki Dred identity. She was subsequently chosen as an icon of London underground club culture when featured in Kiss FM London's first advertising campaign as a commercial station.

In the late '90s, teaming up with Kenny "Dope" Gonzalez and Louie Vega for Masters At Work's classic 1998 re-work of Fela Kuti's 'Expensive Sh*t', 'M.A.W. Expensive (Tribute To Fela)' and the equally strong follow-ups, 'Ekabo' and 'Time Is Now'. The tracks paved the way for a slew of Nu Yorican Afro-house workouts from the likes of Dennis Ferrer, Jerome Sydenham and more and stamped Wunmi's unique vocal style on dance floors worldwide. The collab continued on at the Miami Winter Conference and Masters At Work's legendary Nu Yorican Soul parties in 2000 and 2001 where Wunmi performed through the Havana cigar smoke alongside Stephanie Mills, Jocelyn Brown, Jody Watley, Roy Ayers and more.

More acclaimed collaborations followed. Her solo debut 'What A See', brilliantly reworked by A Guy Called Gerald and Osunlade's 'Rader Du' for Soul Jazz in 2001. Paper magazine promptly voted Wunmi as one of their '50 Beautiful People'. Premier league producers continued to queue up - King Britt requested some Wunmi spice for his 'Oba Funke' album project as well as studio wizard Ras for Germany's Sonar Kollektiv. When the Red Hot organization commissioned an ambitious album paying tribute to Afrobeat Godfather Fela Kuti in 2004, Wunmi was top of their list. The result, a dynamite version of Fela's 'Zombie' backed by Bugz In The Attic's razor sharp beats, became the big club track from the project and was accompanied by some memorable live dates.

Alongside her music, Wunmi has become a vital link between today's global dance music culture and the vast musical history of Nigeria. She narrated a potted history of Nigerian music for Strut Records' 'Nigeria 70' anthology during 2001 and would later voice an audio documentary on Fela Kuti for the BBC.

On-stage, Wunmi is a revelation. The Wunmi stage show has become known for its explosive energy with her trademark outfits, hi-octane dance moves, a super-tight band and an infectious spirit that draws in crowds wherever she plays. Highlights? A memorable appearance at Out Of Africa's London Summer street party in 2004, Jump 'N' Funk in New York and .....

For her debut album, Wunmi has linked up with many of the top producers that have featured her vocals over the years from Seiji, Truby Trio and Fauna Flash to Pastaboys and Siji. The new album is called 'A.L.A.', standing for 'Africans Living Abroad' and, behind the trademark Wunmi grooves, she tackles some difficult issues. There are tracks exploring the alienation of living away from home, the stark choices faced by those who fall outside of "the system" and the continuing corruption of governments and fat cats worldwide. It is Wunmi talking from the heart and represents some of her best work, establishing her as one of dance music's real enigmas.
Wunmi doing Wunmi is what makes Wunmi great – this according to Wunmi and I have to admit, I concur.

To know her is to believe that everybody has a voice and a message; a self expression and a dance! She is, to me, a beloved teacher and a hero for children. Gussie has had the honor of studying with Wunmi for two years and what she has learned from Wunmi about fearlessly expressing herself, goes far beyond the classroom; far beyond her youth.

Wunmi soars and she takes any one around her along for the ride...
DR: Tell me about your life and work.
W: I am leading a full time life.
I am a singer and a songwriter and dancer. I also teach dance and I am a fashion stylist. For the last 15 years I have been juggling all of these things.
I started in the music entertainment world as a dancer. Back home in England, I used to go to clubs because I had to dance. I got noticed by Jazzie B who was the co-founder of Soul II Soul which is one of the biggest, most prominent groups in the UK. I got invited to join the collective and I became the "it" girl. I was the girl on the album, the girl on the video. When we toured it was "Ladies and gentleman - Soult II Soul" and it was Wunmi who came out.
Everything was freestyle. The agreement was that I would get to do me. I styled myself, I did my dance, I was doing ME. That is what I am about. That is what I have been and that is what I have maintained - me being able to be ME.
I was born in England and I was sent to Nigeria at the age of four. I spent ten years in Nigeria without my parents and I think that really set the tone that I needed to be me and to be seen and to be heard. I didn't want to just be a part of many faces, like "Oh, that's just a cousin". I needed to create my own family album.
I came back to England when I was fourteen where my father ruled the house. He determined everything that I did - when I came and when I went. But, there were two things that he did not have a say in:
the way I looked and the way I danced.
When I walked out of the house I was a sight to behold! "Look at me! Here I come!"
DR: And I love it that that is still who you are.
W: I am really about being me and not suppressing that by wearing a uniform. I am a supporter of everybody but I am a lover of me.

"Look at me!"
DR: Yes. You are definitely a demand to be looked at.
W: I think that it has a lot to do with my childhood. I didn't have anything. I grew up wanting a family that I didn't have. Yes, I had cousins. I was a cousin but I couldn't explain why my mother and father were not there. So I made up stories about why they weren't there. My story was:

"I am fierce! I am an amazing person and I can do great things!"

When I came back to England that "me" ended up prevailing. My Dad was a very typical African father who wanted me to succeed in the world of academia. He wanted me to study what he wanted me to study. My spirit was such a creative person that I wasn't quite sure how that was going to work out. Where I was able to breath was through my dancing and through my dressing. I became this person that everyone knew. No one spoke to me but everyone knew who I was. They used to call me "that weirdo" which I think is funny since my name is Wunmi. I thought that was perfect.

When I started going to clubs I had to be the first one in because I had to be the first one out. My father had a curfew. I had to be home by midnight. I had to get to the club, get on the dance floor and throw my moves down. I didn't talk to anybody. It was all about the dancing. I had to dance! It was my release.

Being me kept opening doors for me. I created this person that people gravitated to. I was visually strong. I had no problem with that.

When they approached me and asked me to be a dancer I said "Yes!"

That is how my journey started. I went from being the Soul II Soul dancer to then doing my own one woman show around the world - Asia, America, Europe, I would get on a plane, do the gig...

I was being approached by record labels about whether or not I could sing. My initial reaction was "no" because, although I saw the dollar signs, I never saw my reflection. I didn't want to go where I wouldn't be able to be myself.

My manager encouraged me to explore music even though I thought I couldn't sing. I don't sound like the Black folks sound.
DR: How do "the Black folks" sound?
Buy Wunmi's CD Debut




W: Urban. The "sound" was very American. The "sound" was very R&B. The sound that I have is not. It is a fusion of everything but the dominant sound is the Afro sound. Born in England, raised in Nigeria there was always this pressure to fit in and I didn't want to fit in.

I stopped listening.
DR: We do live in a society and in a time where and when there is a lot of pressure put on people to fit in. Fitting in is rewarded, in fact. What do you say to people who are caught between following their heart and fitting in?
W: I use my teaching skills.

When I got my job at Saint Ann's...I have to connect this for you...

When I was a kid in school, we used to have to write an essay about what we wanted to be when we grow up. My answer was always that I wanted to get married, build a big house and take all of the kids that nobody wanted and make them laugh and be all that they wanted to be; to find joy in being themselves.

After I started teaching at Saint Ann's, I had a conversation with a friend "I am not married. I don't have a house..." She said "Wunmi! What do you think Saint Ann's is?! That is your house. Those are all of your kids! Don't you see the magic that you create there?"

I have never ever thought that. But, yes. So, to answer your question, yes I am teaching African dance but most of the kids that come to me have never taken dance before. All they come for is the opportunity to explore how to be all that they can be within the world of African dance. Tall, short, fat, skinny, big, round, two left legs - whichever way - it is the joy of being able to tell them that they can do it. They look at me and they know that I think they can do it and I demand that they be present and give me all that they can; all or more than they think they can. That is my demand. At that point I tell them that if they do that they will see what they get at the end of the year.
DR: And it is spectacular!
W: And they keep coming back. And when they graduate and come back and look for me, they tell me that I have made them believe.
DR: What is the most difficult thing for you?
W: Achieving balance.

I always do everything to the best of my ability because I don't ever want to feel like I've let anybody down. I select work projects through word of mouth, projects that I feel will be stress free and where I will have the freedom to do my best. I choose to work with people that will allow me to be myself.
DR: Do you ever doubt yourself?
W: Every day.

Every day that I wake up to go and teach I wonder if I have it in me to keep those kids as focused as they were the last time I saw them. I never want to feel like I am not advancing the kids. I question whether or not I will be able to bring the energy that will inspire them. I sometimes feel that what I have accomplished is a fluke.
DR: What do you think people say about you when you are not around?
W: They miss me when I am not around.

I bring energy and love and a spark with me. I bring to the table a love of life.
DR: What do you want people to see?
W: Someone who is doing herself to the fullest.

Honestly Dana, I have said this before. As human beings we are greedy. We always want more and we are conditioned to want plaques and awards. If I were to pass away, there is nothing in my life that has not been fulfilled already. I am living a golden life that has its challenges. But life is a challenge from the get go. I don't regret any of it.

My full name is Ibi Wunmi which means "a birth loved". It can translate in so many ways:

"I love birth", "I love life", "A child loved"...
DR: "I love being here". That is how I hear it.
W: Yes!

When I was a child I hated that name. It took me until I was about eighteen to finally understand the gift of my name.
DR: And what is the gift of your name?
W: That -

I am.
DR: What are you contemplating lately?
W: There is no guarantee of anything anymore. Every one should find the place within themselves to be. We are back to a place where we will actually need to be exchanging our gifts. That's good news...
DR: Yeah... Shaking it up a bit...
W: We all have something to offer.
DR: A hundred years from now what do you want to be remembered for?
W: If I touch just one person who then goes on and touches somebody else -- what could be more important than inspiring someone who will inspire someone else? That is a movement that can not be stopped.
Thanks Wunmi!
WUNMI - CROSSOVER