Egypt, Radio and Television Personality and Talk Show Host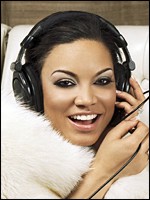 The award-winning broadcast talent is well known for being a staple on radio in major cities like 100.3 The Beat(Philadelphia), 92Q (Baltimore), and currently on Power 105.1 FM(New York) where she's a popular morning show personality of "The Ed Lover Show with Egypt and Ashy". Egypt is also the current voice of Premiere Radio Networks' entertainment report amidst the syndicated show "Live in the Den with Tigger", which can be heard in over 60 markets, making her one of the most recognizable voices in the syndicated radio arena.

EGYPT can currently be seen as a regular correspondent on The Maury Show and was co-host of the hit TV show on the WB Network "Home Delivery." Egypt began her television career as BET's favorite guest hosts for shows like Planet Groove, Rap City, BET LIVE, and was co-host on UPN's "The Source Soundlab " with actor/recording artist Ray-J. Egypt also hosts the online shows AOL's "Top 11 Countdown", and UPN's "Talk Model".

Additionally, she's starred in her very own national TV and radio commercial campaign for the launch of Chrysler's PT Cruiser . Additionally, she starred in her very own national TV and radio commercial campaign for the launch of Chrysler's PT Cruiser .
While the story of Egypt begins with her beauty, it most certainly does not end there. The thing that upstages her beauty is her smarts and the fact that she is wise enough to always be seeking life's lessons. She is strong and self determined; clear and focused about the direction that her life is taking, while maintaining a calm, cool and confident surrender about it all.

Plus, Egypt has sparkle which is probably the reason that Egypt continues to -

shine.
DR: Tell me about your life and about your work.
E: I am a radio and television personality.

I am currently on The Morning Show on Power 105.1 as co-host. I am on VH1's "Best Week Ever" which airs on Fridays, Saturdays and Sundays. I am a correspondent for The Maury Povich Show and I am also the host of AOL's Top 11 Countdown, which is an online, interactive video show that reaches about 3,000,000 viewers a day. I am also a syndicated entertainment reporter for Premiere Radio Networks. I do entertainment reports that keep people in the know all across the country.

I love what I do! I honestly do.

I also am involved in real estate. I come from a family of real estate brokers. As a child I would sit around bored, listening to my uncles talk about real estate and, I am a sponge so I picked up things and I learned, so at the point in my life where I was experiencing a lull in my career, I thought that I should turn to plan B and so I went and got my real estate license.

I was so excited and I had great plans but before I could practice real estate my career took off again. That is when the first T.V. show came my way. God knows what He is doing. He has a plan.

It has been a very interesting journey for me. My career has spanned over twelve years since I was a teenager. I had my first radio show at seventeen. I am very grateful because I know people who are miserable doing what they do every day but they do it because they need a job. That's got to be hard -

"This is a check and I am here because I have to be here".

When you really think about it, you spend most of your life at work. Look at the amount of time that we spend at our jobs? Do you really want to spend that much of your life being miserable? I just feel very blessed and lucky that I get paid to run my mouth.
DR: Do you feel like you are living your life doing what you were meant to do?
E: I definitely feel like everyone is put here for a purpose. What that purpose is, that is what our journey in life is about.

"Why are you here? What unique talents are you blessed with? What do you have to offer the world?"




Egypt's show airs WEEKDAYS
from 6:00 AM – 10:00 AM

During her 5 years in New York radio, Egypt has become known for asking the tough questions, yet maintaining a down to earth knack for making even the most private celebrities feel comfortable.

You may have spotted her on television as the co-host of the nationally syndicated "Home Delivery", UPN's "Talk Model, Aol's Top 11 Countdown, or guest hosting Access Hollywood.

"Radio is my passion" according to the super sassy Egypt. Her radio career has included other major markets such as Philadelphia and Baltimore where she was voted #1 radio personality by Baltimore Magazine and "Power Player on the Rise" by Radio and Records magazine, a leading industry trade publication.

Egypt, amazingly, is also the Lifestyle editor for Black Elegance magazine and has been featured in KING, SOURCE, SISTER 2 SISTER, BILLBOARD, HYPE HAIR, and DUBS magazines.
We all have a purpose. Now, everybody doesn't care to find out what their purpose is... I think that is unfortunate.
I don't feel like I have necessarily found my purpose yet but I am on the road to finding it. I have a drive to do more and to push further. I am still asking questions and wanting to learn. I feel like a part of my purpose is to speak to the masses and to be able to influence people positively. I am starting to think now that perhaps my purpose is about educating youth and inspiring young people to be all that they can be. Perhaps what I have done in my life and with my career is all so that I can turn around and say to young kids
"This is what I have done and you can do it too."
DR: What would you tell a young person that came to you in admiration and wanted to know how to go about having their dreams come true?
E: I get kids coming up to me all of the time asking me questions like that.

I tell very young kids to listen to their parents. I tell them that school is important and that they should stay away from negative things.

When I talk to high school and college age kids, I tell them not to focus on "the money". I tell them to focus on doing what they love and the money will come. I tell them to remember that, even though they have people around them who want to help them, it is their life.

I also tell them that real success is about how happy you are as a person and whether or not you are comfortable in your own skin -- so many of us are not. Why? Why are we so exhausted and walking around like the living dead? Why are we so aggravated? People are tired because they are doing things that they don't necessarily want to be doing but they feel trapped.

So, I tell college kids to figure out first what you love to do. Figure that out first and then you will enjoy your life.
DR: What was one of the things that someone said to you that helped shape who you are today?
E: My Mom.

I love my Mom. She is one of my biggest inspirations. She struggled a lot and she sacrificed so much for my sister and I. I think you learn some of your biggest lessons and get your best advice from people who have really lived and who have gone through hardship.

My Mom told me that one of her biggest regrets was talking herself out of things. Before she would take advantage of an opportunity she would reason and decide "no". She didn't go out and try to conquer or ask for what she wanted. She just decided that the answer would be "no" and so she would talk herself out of things.

We had a conversation once after a book that she read. She was in tears. It was a book about success and she was in tears. I asked her why and she said that the one thing that she wanted me to remember was to - Always talk yourself into things.

"Don't talk yourself out of things. Talk yourself into things."

She told me to inspire myself and be a self starter. She told me to think it up in my head and make a beautiful picture and then decide that it will happen.

As human beings we fall from time to time into the pits of hell, mentally, and we're like

"Damn! Damn! Damn!"

That is when I try to remember what my Mom said.
DR: You said that you think that "you learn some of your biggest lessons and get some of your best advice from people who have really lived and who have gone through hardship". Tell me about a hardship that you have gone through and overcome that qualifies you to pass on wisdom to others.
E: When I was a teenager I made some pretty stupid decisions. I was naïve and I thought I knew it all.

I was here in New York. It was my first year in College at NYU. I had a fake ID. I was going to the night clubs. I met a guy. He was adorable. We talked on the phone a few times before we decided to go on a date. Now, I didn't really know New York outside of Manhattan. I was just a college student and I didn't drive...

One day he took me out to Brooklyn and he wanted to stop and pick up something from one of his friends. So, we were at a hotel and he asked me to come in so that he could introduce me to his friend. I thought

"Alright. He's cute and we had just gone to Junior's..."

But when we get to the hotel room, there is no friend there. There is a gun there. He rapes me by gun point and beats me terribly. Then he leaves me.

It turns out that I was in Bed Stuy and I had no money.

I called a cab company and when the driver got there I explained to him what happened and he took me back to campus. I didn't want to call the cops.

When I look back I ask myself why I didn't do this thing or that, but there is no reason. Your whole state of mind is twisted. All I can remember is that after I just wanted to get back to my dorm room, take a shower and go to sleep.

When I got back my roommates saw my face and they called the Resident Director and they had me go to the hospital. They did the whole rape kit thing and it all seemed so surreal. You read about this stuff but you never think that it could happen to you - EVER.

But it can happen and in the blink of an eye.

I laid there on the examining table, looking up at the ceiling thinking that I had just become a statistic. I have become one of these girls that I read about whose lives are now messed up and they can't have a decent relationship because they can't trust...then I thought -- how am I going to tell my family.

The police came and they were asking me what the guys name was and I felt so stupid because I didn't know his real name. "

"His name was 'Nut'".

How could I be so stupid? How could I go out with this man and not know his first and last name?

"What was his license plate number?"

I didn't know.

"Where were you?"

I don't know where I was. I was in Bed Stuy but I don't know what block...

Never again. Never again.

Never again will I feel powerless or will I be taken for a ride. I will never allow my destiny to be put into someone else's hands. Never again.

I was also determined that I was not going to become a statistic.

They wanted me to go to these counseling sessions for rape victims and I went and I listened twice. These girls were crying and they were so scarred for life. When I listened to these girls I thought

"This is not me. This happened to me but this is not me. I am still me"

That experience made me who I am today. I am sharp. I am alert. I study people. I study things...Wherever I am, I am studying who is around me, what is around me and what is going on. It made me stronger as a person that I was able to get through that.

I have never shared that publicly. So I really had to...
DR: Let me tell you why I appreciate that you did.

I struggle myself with what I want to tell people and how much of myself I want to expose. I think sometimes that if I pretend to be perfect and hide truths about myself that people will think better of me. But what I have found is that when people are willing to be generous by talking candidly about their lives and being willing to be vulnerable, it's a contribution to other people.

That kind of communicating has the power to change lives. I don't take it for granted that you were willing to share your story.

So, I have this thing that I like to say, as a matter of fact I have it printed on the back of my cards:

"If life is in color than I'm playing in RED".

I choose RED because it is intense and provocative. It's hot. What color do you play in?
E: I play in GREEN.

The reason that I choose GREEN is because yellow and blue make GREEN. I feel like my aura most of the time is yellow. People say that I am happy go lucky - not all of the time though. I feel very yellow but there are times when I feel blue. When I feel mellow or introverted or sad or calm -- blue. So, GREEN because it is both yellow and blue and because it is a power color. And you have to have balance. Plus, GREEN is the money color.
DR: Anyway, Green is the new Black!

(We laugh)

When you have "blue" days and you wake up and don't feel like being on air or being photographed; when you don't feel like being bothered, what is it that you tell yourself to get over it and get going.
E: That sounds like this morning.

I hung out too late last night and I'm lying in bed. Its 4:30 and I have to be at work at 5:00 AM and I said to myself

"Get your ass up! Get your ass up!"

That's the first thing I say to myself. The second thing I do is remind myself that everybody doesn't want to hear about your problems or issues. But, like you said earlier, people also appreciate honesty. So, if I come in like

"Y'all...You got to help peel me up off the floor because last night was a hard one and this morning I was honestly thinking about not coming to work today"

people appreciate it.

I truly believe, just as you said, that people respond when you are honest and real.
DR: A hundred years from now what do you want to be remembered for?
E: A hundred years from now, my great great grandkids - I want them to somehow have a memory of me through the foundation that I will have set up for them.

It is very important to educate our children in the area of finance and the importance of setting up a solid foundation so that your money can grow and live beyond you for generations. I would like for my great great grandkids to all be able to go to college and say great great grandma started this. I want all of them to own their own homes so that they know that they have a place to lay their heads...

It is very important to me to make sure that my kids and their kid's kids don't have to struggle.

I am much more into my family lately and when I look out into the world at the things that are wrong, I take a moment to look inward to try and see what I can change with me first.

Lastly, I am hoping that in my life I can say something to touch enough people, be as honest as possible and help people to feel accepted.
Thanks Egypt!
EGYPT ON AIR



Visit the new and improved EgyptOnAir.com. Take a look around. Everything you ever wanted to know about Egypt is on this site.

There are celebrity photos, videos, magazine clippings, entertainment news, and more.

Click here to visit EgyptOnAir.com.