Rudy Gaskins, Emmy Award Winning Journalist CEO of Push Creative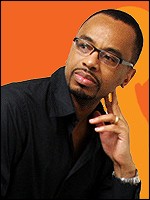 Sure, Rudy Gaskins is the co-founder of Push Creative - but you gotta lead with the EMMY! Indeed, from his work as a director/producer, Rudy has one of the coveted statuettes prominently displayed on his coffee table right next to a copy of James Allen's As A Man Thinketh. Rudy has been working professionally for nearly 20 years. He gave it away for three years before that, but we won't go there. His experience covers film and TV, cable and broadcast, radio and theater. He is a seasoned DGA director, and an accomplished writer in the WGAE. Rudy's a strategic branding guru - he can crank out a bull's eye Brand Bible like nobody's business! It all comes from years of experience in the trenches, at PBS, ABC News, Court TV, NBC, and Food Network. Rudy was the key strategist behind BET's big redesign splash, where he worked with their extraordinary team to develop its mission statement, new logo, and on-air graphic identity. He lives by, and advocates the philosophy that collaboration achieves the highest levels of creativity, which means he has a hard time choosing a tie without asking his wife. Rudy oversees the day-to-day operations of Push Creative.
Rudy Gaskins has that kind of certain something that puts people instantly at ease. The kind of something that convinces you that you've met somewhere before. His wife Joan has that same kind of certain something, which I'm certain has everything to do with their success.

Together they founded Push Creative and together they are creating a phenomenal future...
DR: Tell me about your life and about your work.
RG: The Olympics project was our first job as a corporation.



Rudy Gaskin's wife and co-founder of Push Creative, Joan Baker
I probably incorporated about two weeks before we got the call. A colleague over at
NBC
knew that we had incorporated and that we were looking for opportunities and he recommended us even though he knew that it was just me and my partner and essentially just me as far as doing the creative work.
My partner Joan, who is also my wife, does our business development and public relations.
So,
NBC
hired us for the Olympics to develop a tease campaign that would promote the top athletes months out from the games, to help people understand their stories and what was really at stake for them. Olympic athletes are really inspiring because there is always a dream that they are following over a long period time.
The idea was to captivate America with the dreams of the athletes and allow them begin to follow along with their stories. In fact, the theme that we came up with was "Follow the Dream".
We developed thirty biographies for the top athletes -- Michael Johnson, Marion Jones, Mo Green...
...I had just come from
Court TV
where everyday of my life was about murder, rape and bludgeoning. It was just all horror stories. Nothing good comes to court.
After doing that for almost six years, what a relief to walk into the Olympic Games with all of these incredibly inspirational stories, where people have overcome tremendous odds. Olympic athletes have something innate that you can't buy or develop, its just there. You can see it when you watch their life stories or when you observe how they approach their work - they have a sense of perseverance that just goes beyond the meaning of the word. They fight to the end.
DR: What do you think it is about them that has it be that way?
RG: It's just something that they have. The people who wind up going to the Olympics and winning, especially the ones who do that more than once, and have terrible things happen to them - injuries and other tragedies -- and come back from that to win, I look at them and I just feel like there is no reason for me to stop what I am trying to do. What they are doing is so much bigger than what I can imagine in my own life. They give me encouragement to endure.

I can't put my finger on exactly what it is they have. I wish I could so I could sprinkle a little bit of it on in the morning.

They allow for me to see that people can go further.
DR: Tell me about Push Creative?
RG: We brand ourselves as a branding services agency. What that means is that we provide the advertising soup to nuts, creative, print, outdoor, on-air, and we do that from the strategic, marketing standpoint. We will take your research analysis and help you define yourself and take that all of the way through to final execution, or we'll jump in anywhere in between.

We have a room full of awards and I like to think that the awards we have are based more on the fact that the work that we do achieves results rather than that they provide eye candy.
THE COMPANY

All this time, you've had a team of covert operatives, embeded in the client side of our business. We've risked life, limb and a guaranteed tee-off time at Wingfoot, gathering the information necessary to give you a competitive edge. We are executives, with the reserved parking spaces to prove it. We are fluent in entertainment, news, programming, branding, and we're darn good with a ginsu. Hard work? Tight deadlines? We've tamed those savage beasts, in addition to many sweaty account executives.

PUSH partners with clients to meet their creative objectives. "We exist to serve our client. What good is a spot that wins awards if it doesn't win viewers? It's a simple concept that's been ignored by too many agencies for too long," says Rudy Gaskins, who founded Push Creative with Joan Baker in December 2000. The PUSH team lives, breathes, and lovingly embraces, client services. Being true creative service partners - that's what sets PUSH apart from typical ad agencies.

That, and also as a group, we're pretty easy on the eyes.
DR: What do you think that it is about you guys that sets you apart?
RG: I think it is really personality.

We have been able to express our personality in our brand. We are very friendly and energetic and expressive. We try to have a good time. When we started the company we thought why not build into our philosophy and our process a way by which we can enjoy our work everyday.

We really have made an effort to let people know that we intend to have fun.

Joan is at the heart of this business. She is a natural shining light. People really gravitate to her energy. She brings warmth and beauty into the space that makes people relax and want to enjoy themselves. Without her it would be a totally different company.

We are the sum total of the people involved.
DR: What do you love most about what you do?
RG: I am an idea person.

I like to come up with ideas that will satisfy marketing problems or that will create something that we can explore that feels like there is enough magic happening where something interesting will come of it. What I like most is coming up with ideas and then figuring out how to see them through.
DR: What is it that you love most about your life beyond work?
RG: Right now, I am living the life that I want to live. I am living a life that I love. I don't have everything that I can imagine wanting but there are no obstacles in my life in terms of not being able to have the things that I want. If I don't have it, it's because I'm not going down that path right now or because I haven't made up my mind to work harder in that area but -

I feel free.

I feel like I can make choices about what I want, where I want to go and who I want to go with.

I am also very happy with my love life. My relationship with my wife is incredible. I know that and I know that people know that when they are with us. I have come to really cherish that and I understand that that is very special and unique.
DR: I have to admit that I sensed that about you guys right away.

What would you say to people who don't necessarily love their lives but want to. What do you say to people who are struggling with that?
RG: I have been in therapy, I have read good books...

Right around the time that I started Push Creative, back in 2000, I decided that I needed to be more open and to reach out more. It was really a desire that I had to connect more with people. I wanted to reach out and let people know that I existed and what my capabilities are. That was new for me. As I began doing that I found that I enjoyed taking an interest in people.

Aside from all of that, I realized that either I take myself as I am or I don't.

Do I take me or not?

I realized that I could accept who I am rather than just tolerate myself. That was the first step for me in beginning to fall in love with my life.
DR: That is one thing that I think so many people don't get to and I like the distinction that you make between tolerating yourself and accepting yourself just as you are and as you are not.

How would you describe yourself in relationship to the whole world?
RG: We are in the communications business and the way that people communicate is changing all of the time. The Web is huge and within the Web there are a lot of new things going on and people are continuously coming up with new ways to play there.

This year in particular has been a year of change for us in the sense that we have had to adapt to our clients needs in the Web space. What we have found is that we have to say "yes" and then we have to seamlessly learn that piece of business and deliver it to the client on time and with "A" plus quality without missing a beat.

So, our relationship to the world now consists of having to constantly be on the look out for what is new. We have to figure out how to quickly understand what is new so that we can translate the client's needs and then provide.

This year we have done three projects unlike anything that we have done before. It takes quite a bit of work in the back room to really deliver but, that is what we have to do.

You say "yes" or you become a dinosaur in no time flat.

The world now is such that you are required to constantly be learning.
DR: What personal insight would you offer to people?
RG: To anyone starting a business, you may not see this in the beginning because you have to be so focused, but once you have your business moving in the right direction; it gives you the room to start to dabble in other areas in life where you may have had an interest but not the time.

In corporate America you really can't color outside of the lines:

"You will grow in this vertical and achieve your results here."

We have been able to start working in other areas like programming development for television shows, going to networks and sharing our ideas. We have also developed a new website venture, a social networking website that is in the hands of a venture capitalist right now.

My point is that starting a company provided the opportunity for us to really begin to play in other areas of our life and take on other interests as they come up.

I have control over my destiny in a sense. That has been a real blessing and a lot of fun.
DR: What do you hope that you ultimately contribute to people?
RG: I hope that I inspire people to want to bring their best selves to everyday of their lives and to enjoy their lives and to take ownership of being excited about their lives.

I want to inspire others to inspire others because I believe that if people are inspired they bring their best selves to what they are doing and that is where great things happen.
DR: When you dream BIG, what do you dream about?
RG: My BIG dream is to have a nice art gallery on the beach in Malibu where I can sculpt and paint and make art. No one has to buy my art or like it. I can just enjoy it and smell the salty ocean air and drink wine...
DR: A hundred years from now what do you want to be remembered for?
RG: I hope that I am remembered for helping people to see that -

good, leads to good.
Thanks Rudy!
PUSH CREATIVE



Push Creative is a full service branding agency providing 360 degree integrated marketing concepts, web development, print & outdoor, motion design, copywriting and video production. We handle projects small and large and pride ourselves on collaborating with the extraordinary in-house creative teams maintained by many of our clients.

Click here to learn more about Push Creative online at their website: http://www.pushcreative.tv.