TransMedia Artist, Charles Reese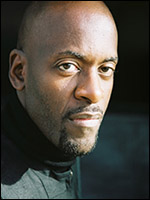 CHARLES REESE aka The Charles Reese Experience is a Washington D. C native who received his Bachelor's Degree from Morehouse College. Charles has numerous, television, film and theatre credits including the critically acclaimed Off-Broadway play "James Baldwin: A Soul on Fire" by the late playwright Howard B. Simon (5 New York AUDELCO Award Nominations). David DeWitt of the New York Times declared,"A Soul on Fire is funny, thrilling and wise buoyed by the passionate performance of Charles Reese in the title role. Reese has a vehicle worthy of his performance."

Additional THEATRE: "At Sunrise" (Attic Theatre), "Sable Rhapsody- A Murder At City Hall" (co-written with Irene Wiley at the Mark Taper Forum Annex), "Emmett Till-50 Years Later" (Highways), "The Griot Trio" (Aaron Davis Hall), "In Dahomey with Opera Singer Shirley Verrett" (New Federal Theatre); TV: "Law and Order", "Between The Lions," "The Chris Rock Show," "In The Heat Of The Night", and "Grapevine". FILM: "40" (Karga Seven Pictures) "Sippie" (AFI), "On The Low", "Escape to Heaven" and "Ruby Dreams".

In addition to serving as the Executive Curator for the literary canon of Emmy Award Nominated playwright/poet Howard B. Simon, Charles is also the principal/founder of Teeth & Eyes Communications -- a curatorial consulting venture which utilizes innovative theatrical events as a tool for tolerance, self-esteem, and audience development for the entertainment industry.

Charles currently plays the sardonic foil on the hit web series "WHO" available only at www.ajakwetv.com.
DR: Charles, tell me about how you ended up basically dedicating so much of your life to the study of and the teaching of and the spreading knowledge of James Baldwin. I think it's fascinating.
CR: It started actually when I was a freshman at Morehouse College. I met Baldwin one time in my life and that was strolling across Morehouse College campus during the late '80s when he was working on the Wayne Williams case in Atlanta, Georgia. Ironically, that was the year where Wayne Williams case was coming to a head. They were getting ready to go to trial and Baldwin was hired by a magazine to do a story around the Wayne Williams. So he was around interviewing people and doing what Baldwin does.
At that time I knew, not a lot about Baldwin. I knew that he meant a lot to the literary world and the only thing I had read at the time was Go Tell it on the Mountain. So he saw me coming across campus and he said to me, "You have eyes like mine". I said, "Thank you" and then I ran. That's what you do when you're eighteen. You run because you don't know.
I was in the middle of finding out who I was sexually - going through that whole process. Well actually, I knew but I was like well I'm on this campus how am I going to deal with all that?
So, then I realized who I saw. Now I'm wondering, "Why didn't I. Why didn't I talk to him"? I thought that I would see him again. I didn't. Years go by. Go Tell it on the Mountain ended up becoming a film and Marsha Jackson, my old acting teacher was at Spelman at that time, was actually in the film.
The film ended up being shot in the Atlanta area. So I read that book. By the time I graduated, Howard Simon and I decided that we were going to go to Europe that summer and since we were going to Europe we decided that we would look for James Baldwin - being adventurous. Thought we were fearless. Forty dollars in our pockets, girl! Now remember, forty dollars during that time was really eighty dollars. That was a lot of money in French money because they had francs then. We had enough money to stay in hostels and live.
So, we go over, get on a little plane. Get to London. From London we go over to Nice. That's where James Baldwin lived. We get down there, go to his home, knocking on the door like we're somebody...Baldwin was not in France. He was in the United States. Our faces were cracked. You know Howard Simon. We were like, "Ahhhhh!". So here we are at the door....but the guy was nice enough to let us in so we could look around. Our faces were just cracked. We thought we were on to something.
So we spent another month or so there. We came back and lived in D.C. for a little bit and went on with our lives. We didn't think anything of anything. Howard becomes a playwright. I end up going to Los Angeles. Then I came back to New York for a while.
So, I'm in New York. Went to see Howard Simon and by this time I was like, "Howard I need a solo piece of work." He said, "What do you want to work on" and I said, "Let's work on something about James Baldwin".
We decided to start working on something from scratch.
What ended up happening is that we started reading all of Baldwin's work. That's when we got really detailed. We started reading Nobody Knows My Name, Tell Me How Long a Train's Been Gone, of course Giovanni's Room, and we stumbled across James Baldwin's biography by David Leeming, who was Baldwin's former secretary and assistant. Inside of that book we discovered a chapter called "Activist". And in that chapter we learned about a secret meeting that James Baldwin had with Attorney General Robert Kennedy in 1963. I had never heard of it. We read that chapter and it detailed everything that happened in that meeting and Howard looked at me and said, "I think I found the premise of the play".
DR: Wow...
CR: The play became the Baldwin-Kennedy meeting. How do you make that entertaining?
We started our process. We started reading books. And okay, boom. Fictional history is what we will call it. I will work some things around it. In 1999 Howard, as a birthday gift, gave me the script called James Baldwin: A Soul on Fire.
James Baldwin: A Soul on Fire

JAMES BALDWIN: A SOUL ON FIRE is a two character short play which re-imagines what happens when writer/activist James Baldwin invites Lorraine Hansberry, Harry Belafonte and Lena Horne to a round table discussion on race relations with Attorney General Robert Kennedy on May 24, 1963? This theatrical play witnesses a day in the life of James Baldwin as he prepares for this lesser known historical secret meeting in New York City - three months prior to the March on Washington. This uniquely structured play explores the hidden recesses of Baldwin's innermost passions.
DR: Wow...
CR: That's how it happened!
DR: And then from there, you were just in it. You were just in it.
CR: At that point I was just in.
When he presented the play to me, it wasn't a solo show. It was a two character. The other person is a Baldwin ethereal spirit, which embodies all of the other characters that we need because sometimes in a solo piece, you will find it fun to have someone on the stage with you. I really enjoy that a lot.
So, we embarked on:
"How do we go about getting this work done"?
I had to go do a little research because there were some things within the play that we didn't know were in existence. He had talked about a documentary piece about Baldwin talking about the meeting. We found some research and we actually found the actual footage, which we actually used. You can find it on FaceBook. I went to the Library of Congress to do some research. We got lucky. Came back and did a reading of it in New York. Woodie King, Jr. came and saw it, optioned the piece in 1999 to be on the 1999-2000 season. We performed it in 2000. Unfortunately Howard passed away in 2000 when we actually opened.
DR: Wow.
CR: I had promised Howard, on his death bed, that I would keep doing the work and I would somehow figure out what I would need to do and that promise fulfillment comes with the publishing of the book, giving Howard full credit as the playwright.
I became the editor of the book version. Ironically enough, we got David Leeming, Baldwin's biographer, to write the forward to the book. We became friends after Howard's death because David Leeming was walking down the street in Fort Greene and said, "I read your New York Times review" and we became friends.
DR: And did he remember you from the knock on the door that summer?
CR: No, he wasn't there that summer...
DR: Oh, okay...
CR: I don't remember who was at that door but David Leeming was actually Baldwin's secretary from 1962-68. His book that we read was actually published after Baldwin' death. But he lived in Brooklyn and he heard about us and about what we were doing through the New York Times review. He wasn't actually there when we did the piece. He was actually teaching in New Mexico. We literally lived three blocks away from each other in New York. I lived on Adelphi. He lived on South Portland.
DR: Wow. Wow. Wow. Wow....

So Charles what are you doing now? I mean how does this work manifest in your day-to-day life?
CR: It's taken all of my life!
DR: I just think its so interesting. I was sharing with a man that I saw in a café, who was reading Nobody Knows My Name, about you and the work that you do on Baldwin and we were commenting about how fascinating it is for someone to have this kind of commitment to somebody's life. And James Baldwin is a deep well...
CR: Well, he is a deep well and I must tell, while the play was initially something for me to do, it was supposed to be about making sure I had some work. But it has gone beyond that in the thirteen years. I'm actually celebrating the fourteenth anniversary of when I got the piece...
But in anything that you start, Dana, like you know we will start school and want to major in something and then something gets you?
When I started at Morehouse I was a psych major and then I ran into LaMar Alford. Boom! Changed my life.
DR: Right.
CR: I started with the play and a friend and we thought we would be working on this together. We thought that we would go from Off Broadway to Broadway. We thought that we would travel and do all of this stuff. But what ends up happening is it became a wonderful way for me to develop, what I call, a TransMedia project.
A TransMedia project simply means, to me, if you have a project that you are given, it's starts in one form and you keep transferring it into all of the different mediums that come your way, specifically in this new digital, new age world that we live in with social media. So it started out for me as a play, moved from a play that I could position into anything that I was actually doing as a performing artist, as a consultant, as an actor. It just morphed into these things.
That is one of the things that I try to tell artists now. We have to be able to try and figure out how we can morph work so that we can have sustainability. A perfect example right now: here it is thirteen years later and I'm just now publishing the book. People ask me why I didn't just publish it through Samuel French. Well, Samuel French for me is something that I can go back to later. I decided to publish it as a book because I can go around and read from the book and have book salons. So publishing the book then turned into book salons where I would go to people's homes and so that they can buy the book but I will perform excerpts live in people's living rooms and it's so exciting and engaging that people want to buy the book. I can sell thirty to forty books in one book salon but at the same time you can also buy it on Amazon.
But Amazon sort of becomes my book supplier or actually CreateSpace.com, which is a subsidiary of Amazon. That's how I published the book through an organization called Glover Lane Press. Glover Lane Press is a one-woman shop. You go to her, you pay her a fee, she works with you and shows you how to line up your book, get it through Amazon's process, set up your account and everything for you so that by the time you get the book published you have all of your agreements and all of your electronic stuff set up. So by the time I sell the book on Amazon, Amazon takes theirs out already wired automatically and I get monthly payments from that. That was something in the book world that I didn't know about but I just got someone to help me with that.
Once the book is published, its on you to figure out how to keep it going. I get some sales now from the International side but my biggest thing about this book is the salons and going to libraries.
I got the book cataloged through a series of libraries here in New York and in Los Angeles. Now I am trying to do that as I go around the country - to have the book cataloged in most libraries. And that's just a step that just takes time.
But, the salon series takes up a lot of my life. I just did one on Sunday. People hire me directly to come in to do subject matters on Baldwin. The Los Angeles Post article that was published recently happened because I ran into someone at a jazz event who works for the post and they suggested that I do a story on Baldwin. Boom. It gets published and then somebody else finds me. I have a Wikipedia page that you should check out that I actually didn't do. And because it's on social networking, someone will find it and do a whole blurb on you. So James Baldwin, Soul on Fire, has its own Wikipedia page, quoting me from the book. The only thing I did within the book was just wrote an afterward. All of the other stuff was written. I had a definitive script. I just had to go back and put the things that Howard didn't get to put in it because he passed away. That's why I chose the Editor title because I wanted to honor Howard but at the same time I wanted to tell people about the Baldwin-Kennedy meeting in the way we could through Baldwin's eyes.
I met James Baldwin's sister recently, who lives in Baltimore. I met his niece. They all came to one of the salons. But they didn't come to the play back in 2000. But they came to a salon. It is on it's own journey.
Now, what I am doing right now as we speak, I am moving and taking this to the speaking circuit through an organization called Program Bureau. In order to get on their speaking circuit, one, you have to have a book and two, you have to have gone around and proven that you have speaking engagements. So basically in these last sixteen months I am eligible to be on the speaking circuit. So I'm sending my stuff in. Six to eight weeks. Once you get on the speaking circuit, (they are located in Boston Massachusetts) now I'll be on the same circuit as Bishop Desmond Tutu, Civil Rights artists and activists and people can find me that way and now I have a fee that is based on me coming in, taking my one play book and then coming with other things I want to speak about. I speak about Baldwin, as an artist, as an activist, I also speak on the work that I do in the web world. I speak about my past as a museum person. So you give them types of speeches that you want to give, but it is the Baldwin book that allowed me to jump in there and do this.
Then I can also talk about Howard's work and how one preserves the work of a deceased playwright. Howard had thirteen other plays and Howard also had a play called Just Passing Through that was turned into a film that won a local Emmy award. So I now have my playwright, Howard, who wrote the piece about Baldwin, and then I can talk around James Baldwin and the slice of life that we do on an historical piece of history that is celebrating fifty years.
I call myself a Cultural Architect for Public Engagement. For short it's called CAPE - C A P E. People always ask me, "What are you"? That's what I am. I have given myself my own title...
DR: A Cultural Architect for Public Engagement. I love that.
CR: C.A.P.E
When I met James Baldwin he had on a cape and Ironically enough, when went to Paris I actually wore a black cape.
DR: I love it. Charles what, in your opinion, was James Baldwin's greatest contribution to humanity.
CR: You know what? That's actually not a hard question to answer. His greatest contribution to humanity is the legacy of the body of work that he left behind. It is the work that I believe has a lot of answers to a lot of our societal ills. I think he was very prophetic. You mention Tim Wise. I have no comment because Baldwin for me is the answer to a lot of these societal ills. His work was there and if we read it we will see all of these answers.
His work The Fire Next Time is the most prophetic piece of work that he left. The Library of Congress has designated The Fire Next Time as one of the top twenty books. That was a game changer for the United States and the world.
It was Baldwin's voice and the way that he was able to say what he had to say to America that is "the true legacy and the measure of a man", if I might quote Sidney Poitier. In The Fire Next Time, he simply says this so wonderfully about what is happening in this world in 1963. Now when I read this to you will think that we are talking about now. He says in The Fire Next Time:
"And here we are at the center of the arc, trapped in the gaudiest, most valuable, and most improbable water wheel the world has ever seen. Everything now, we must assume, is in our hands; If we - and now I mean the relatively conscious Whites and the relatively conscious Blacks, who must like lovers, insist on or create, the consciousness of the others -do not falter in our duty now we may be able, handful that we are, to end the racial nightmare, and achieve our country, and change the history of the world. If we do not now dare everything, the fulfillment of that prophesy, recreated from the Bible in a song by a slave, is upon us: God gave Noah the rainbow sign...
DR: No more water, the fire next time!"

We didn't obviously heed his warning and now look at us. How do you think Baldwin would fare, right now in this climate? With all that has been going on - Trayvon Martin and Voter Registration laws being turned back...
CR: I just finished having this conversation at a recent salon titled: James Baldwin: Art, Sexuality and Race. The passage that I read to you is how the evening closed. When I read it, everybody just got quiet.
We talked about Trayvon Martin and we talked about all of the things that have occurred in the last few months. I have done a series of salons in Los Angeles at the home of a gentleman by the name of Robert Holmes. He is an art collector and an entertainment lawyer. The series started with James Baldwin as an activist. James Baldwin's life in Paris was the second one and we finished up with the third one celebrating his birthday and it was so interesting between the first salon and the last one, we talked about a lot of social issues - Trayvon Martin, Obama's speech about Trayvon, Civil /rights Voting Act, Marriage Equality. All of those things played a role in the conversation that we had and I think The Fire Next Time addresses all of that specifically in The Fire Next Time. There are only two essays in that book by the way. The first part of the book deals with James Baldwin writing a letter to his sixteen year old nephew which explains how his life is going to go. When you read that today, that is young Trayvon.
Baldwin was a young preacher. Part of what he did so prophetically was to be the one to predict where we were going. Now as Baldwin said, we are back in "that gaudiest wheel of all" right now. Now it's about the fire THIS time as opposed to the fire NEXT time.
One of my favorites of his books is called James Baldwin: The Cross of Redemption. These are the uncollected writings edited by Randall Keenan. These are the things that didn't get published.
DR: I have come across that book...
CR: What I am saying is that there are answers and proactive solutions in all of Baldwin's work. That is why I think he is so important to society. You'll find his quotes all over FaceBook.
How much work I get to do and carry on, I don't know. I do know that until the end of time I'll be focusing on something around Baldwin as a part of my work.
DR: So is a movie next then, Charles? Is trying to get some energy and momentum around a Baldwin movie what's next for you?
CR: Yeah. We have been playing with that for a while. There has been a lot of talk about it. Heard that Cuba Gooding was trying to do something...The movie? It's time and that it will take people jumping in. I've talked to the French about a possible documentary. We will see where that goes. I am going to keep doing what I am doing - begin to speak more. I have a TV pilot that is happening. If that goes that will give me the opportunity to push that level. But I think going on the speaking circuit now will bring attention to doing a movie. A movie would last a lifetime. It would be gratefully helpful.
DR: Charles, A hundred years from now what do you want to be remembered for?
CR: Well, now that I am a half of a century, a hundred years from now what I want to be remembered for most is my love and joy for history and rediscovering or reigniting unforgotten treasures like James Baldwin and Howard Simon, keeping those memories alive of their works. Their work not only speaks to me, but speaks to other generations to come. So, I think that I have become a legacy bearer of unforgotten literary treasures. Oh Wow! Did I say that?
Thanks Charles!
James Baldwin - The Artist's Struggle for Integrity

Part of a talk given at the Community Church in New York in 1963.