Trace Gaynor and Stephen Sotor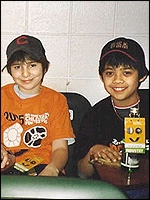 Recently, I discovered something that I think I should share. I discovered a story about two 13 year old boys, Trace Gaynor and Stephen Sotor, who live in Chicago and decided to make a film about -

choices and about being responsible. Their film is about consequences and hope; about compassion and better days because it is about considering life beyond what works for you, personally.

The film is called Genie in a Bottle: Unleashed and -

I am inspired.

My hope is that, if it makes a difference with you, it can make a difference worldwide.

Please take a moment to watch what these inspiring and remarkable 13 year olds have to contribute.

Take a moment to watch Genie in a Bottle: Unleashed


From the Web:
Genie in a Bottle: Unleashed
It is a short 16-minute film telling the story of the Manhattan Project, in memory of the 60th anniversary of the Hiroshima and Nagasaki Bombs in August 2005.
The film is made by kids for kids to understand how and why the bomb was dropped and the impact the bomb had on, not only the victims of the bombings, but the scientists who created it. Stephen and Trace want their audience to remember the film and to understand the history and tragedy of nuclear weapons. The film was not a school project but a film they did on their own because they felt the story needed to be told.



Click here to read Liberty Suburban Chicago Newspaper's article on Trace Gaynor and Stephen Sotor.
The boys have interviewed the following people:
Martyl, artist for the Doomsday Clock and widow of Alex Langsdorf Manhattan Project physicists.
Al Wattenberg - University of Chicago physicist who worked with Enrico Fermi on the first nuclear reaction in 1942 and the Manhattan Project.
Leon Lederman- Nobel Prize Physicist and former director of Fermi Labs.
Stephen Schwartz - Executive Director of Bulletin of the Atomic Scientist.
Mayor Akiba of Hiroshima.
The Genie, who is currently contained at 860 Lake Shore Drive Chicago.
Sagawa Ikumi- from Hiroshima, 7th grader, Nobori-cho Junior High and Sadako Peace Day footage
The boys were fascinated by the story of the Manhattan Project; spies, secrecy, bombs and Chicago's involvement.
Both boys directed the film. Stephen does camera and Trace interviews and composes all the background music.
The film was shown at the United Nations May 13th, 2005.
Click here to visit Stephen Trace Films