Acclaimed Jazz Artist and Entrepreneur, Marcus Johnson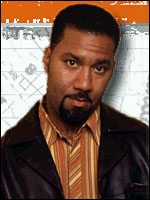 Throughout his 10-year career odyssey, jazz keyboardist, composer and producer Marcus Johnson continues to stand steady and unbowed.

Johnson's artistic journey with music reflects his entrepreneurial spirit, his maverick approach to composing and performing as well as his principled dedication to God, family and community.

His latest CD, "The Phoenix" (released July 2007) is aptly named as the work represents Johnson's struggle in building his brand within the music industry and his conviction to rise above the setbacks and disappointments. Widely lauded by jazz critics and aficionados alike, "The Phoenix" is his best work yet.

Johnson's previous five CDs have all peaked in the top 20 of Billboard's Contemporary Jazz charts for sales and predict that "The Phoenix" will surely rise and eclipse that mark.

Marcus Johnson has developed a reputation as a stellar showman, wowing audiences with his emotive displays of keyboard dexterity, while mixing his jazzy beats with R&B, go-go, Latin funk, a taste of salsa and a sip of hip hop. It's an unbridled genre that has allowed him to cultivate both mature smooth jazz fans as well as the younger urban-contemporary audiences.

Born in Ohio, Johnson was raised in Washington, D.C. and grew up sampling a cornucopia of musical styles. His mother was a classical pianist and his father purveyed the funk. After Johnson witnessed his first live show - Earth, Wind and Fire - with his father, his musical chariot was in motion. His step-father, using his winnings from a Maryland Pick-3 Lottery game, bought Johnson his first keyboard and the noodlin' began.

With private lessons from an aunt and direction from his high school music director, Johnson's keyboard fetish flared into a passion particularly knowing he couldn't sing nor rap.

The young mogul soon began studying both contemporary and traditional jazz and cites Thelonius Monk and Joe Sample as early influences through high school and his undergraduate studies at Howard University. While pursuing both a JD and MBA at Georgetown University, Johnson decided to independently produce and distribute his own album. The product, Lessons in Love (1997), went on to sell 40,000 units, a phenomenal success for an unknown artist's debut release. It also helped him launch his career as a jazz musician and chief executive of Marimelj Entertainment Group LLC (MEG).

During the next decade, Johnson would release more critically-acclaimed music: Inter Alia, Chocolate City Groovin', Coming Back Around, Urban Groove, In Person: Live@ Blues Alley; Just Doing What I Do, Smooth Jazz Christmas, and In Concert For a Cause.

He's shared the stage with many musical legends including Boney James, Kim Waters, Peabo Bryson, Diana Krall, Eryka Badu, Peter White, Miles Jaye, Rick Braun, Norman Brown, Chaka Khan, Arturo Sandoval, Chuck Magione, Marion Meadows, Rachelle Ferrell, Mike Phillips, George Duke and Jeffrey Osborne among others.

And he's played at many of the world's famous festivals and venues including The Capital Jazz Fest, Bermuda Jazz Fest, Atlantic Artscape, Huntington Beach Jazz Fest, The National Smooth Jazz Awards and the John F. Kennedy Center for the Performing Arts.

Noting Johnson's business savvy and musical ambition, Black Entertainment Television (BET) founder and businessman Robert L. Johnson (no relation) invested in MEG and became Marcus' business partner. Under this partnership, MEG's label Three Keys Music

- based in the Washington, D.C. metro area - established its own full-service recording studio, Studio 8121; and two music publishing companies, Marimelj Music Publishing and Three Keys Music Publishing.
On anybody else, Marcus Johnson's cloak of determination and commitment to 'give back' might sound a bit trendy and cliché. But the impression that one gets from Marcus is that he sincerely is a man with a serious intention to leave the world a better place. His passion is a dead give away that he means business and his musical talent is his vehicle of choice.
DR: Tell me about your life and your work.
MJ: To tell you the truth, my life is about giving back.

I often ask myself the questions -

"Why am I here? Why do I exist? Why did God put me on the planet at this time? What is my purpose?

I keep coming back the answer that -

I am here to help people find their passion and to "pursue it anyway", despite any distractions, obstacles or barriers that are placed in front of us.

I always tell kids to dream big and work hard so that their dreams come true. As they get older I start talking to them about the concept of having a framework within which they can work, but it all starts with that dream.

I like to talk to older people about getting back to that point before they started settling. Right before they started settling they were the most passionate about what they were doing and then something happened and they decided they just couldn't do it any more. Generally that is just before it was right about to pop off.

Following our souls and discovering who we are and our reason for being is "wow"! If we did that more than setting goals that are about getting a job and consuming, I think a lot of people would be a lot happier.

I like to talk about the difference between the millionaire and the priceless-aire. I talk about being able to call somebody up when you are in dire need, or being able to get a loan when you need one or when you need to lay your head down somewhere, you have a place to go. No matter where you are or who you are, you really are one mistake or circumstance away from having to possibly go through that. Yes, it's nice to be able to go to the bank and draw out a million dollars, but if you don't have it, imagine having the priceless relationships that would allow you to maintain.
DR: I just want to make sure that I understand what you mean by "priceless -aire". I want to understand it in the way that you mean it. Are you suggesting that people develop invaluable relationships?
RENOWNED JAZZ ARTIST MARCUS JOHNSON
HELPS THE YMCA BUILD BRIDGES

Press Release: YMCA of Metropolitan Washington

March 1, 2008

Washington, D.C. — Highly acclaimed jazz artist and entrepreneur Marcus Johnson has chosen the YMCA of Metropolitan Washington as his charity of choice to receive proceeds from his new live CD, "In Concert for a Cause." The album will be released March 18, 2008 and sold Nationwide . 10 percent of each CD sold ($1.00) will be donated to the YMCA's annual fundraising campaign also known as "Building Bridges." "In Concert for a Cause" is a compilation of Johnson's live performances at local venues in DC, Maryland and Virginia.

Marcus Johnson Helps the YMCA Build Bridges

"I believe in supporting organizations that go beyond providing programs and services to the community," said Johnson. "The YMCA builds community and fosters growth and development for all children and their families."

Johnson is President & CEO of Marimelj Entertainment Group, LLC, which serves as the parent company to DC-based Three Keys Music and the home of Studio 8121 East, a full-service recording studio. Also, Johnson has been featured on Fox 5 News American Idol comment segment, "Idol Chatter" and is a former host of Smooth Jazz 105.9 morning show.

To purchase the CD "In Concert for a Cause," visit your local music store or online site - including www.threekeys.com and for benefit concert dates, visit www.ymcawashdc.org.

###

About Building Bridges

Building Bridges is the YMCA of Metropolitan Washington's annual fundraising campaign. The funds raised from this campaign are used to provide financial assistance and scholarships to individuals and families throughout DC, Maryland and Virginia regardless of their inability to pay.

For more information, please visit www.ymcawashdc.org .
MJ: Yes.

I am suggesting that it is important for people to build up so much social capital because of who you are and the things that you do, that people want to help you -- just because.

I give back a lot to the community. For instance I am on the board of directors for the YMCA and a dollar from every one of my CD's goes to them. I went to vote in the last primary and a guy overheard somebody mention my name. He told me that he was a fan of my music. Then he told me that the thing that really impresses him about me is what I do in the community. He gave me one of his business cards and said that I should call let him know if there is ever any way that he can help me.

You can call it "paying it forward". I call it being a priceless-aire. If you can have great relationships, along with making money, you will be straight forever because you will always have friends who won't let you fall too low. They will do whatever they can to hold you up. I have seen it time and time again. I have gone through craziness having a music business company. There is no doubt about it, but because I have done so much in the community, people forgave loans, people forgave bills, people reached out and it bought me the time that I needed to rethink our model.

I always challenge people to make sure that they are doing the things that are spiritually significant and socially redeemable because that is worth its weight in gold.
DR: How is it that you personally measure success?
MJ: Success for me is the ability to sleep at night.

When you feel that you are successful there is a certain happiness you feel and a lot of comfort. I think that is the key. No matter how much you have, if you are doing those things that allow you to sleep at night, that to me is success.

People should do in their lives, the thing that makes them smile before they go to sleep. Before you go to sleep is the time that you are dealing with you...
DR: What is the wisest thing that you have ever said to yourself?
MJ: "Marcus, know your limitations and that will help you broaden your horizons".

I tell myself to

"Act the way you want to be and so you will be the way you act".

One of the main challenges for me is understanding that the constant in life is change. I know that if I can deal with change and manage it and walk through cloudy days and have faith, eventually I will get to a nice place.
DR: Is there anything that you would change about your life?
MJ: Honestly, NO!

Do you know what I mean?!
DR: Explain it to me...
MJ: I look back and think that if I could only go back ten years I would've done this, this, this and this. If you are asking that question, we would have to stay here for about a year because I have made some mistakes and tomorrow I'm going to make some mistakes...But because of everything that I have gone through I am who I am today. I am a little messy but I make up for that in my passion and in my vision.

One thing anybody in my family will tell you is that I am the guy who has the most faith. My sister would tell you that I have more faith than anybody in this world. I think I was born with it. I just believe that, no matter what, I am going to be okay.
DR: What do you hope that people say about you when you are not around?
MJ: I hope that they say:

"There goes a guy who really tries hard. He tries hard to make a difference."

There are times when I try with the best intentions and it doesn't work out but if people see me as somebody who means to do the right thing - that is great. I try to help people out and I hope that people recognize that. But, the thing that I really want them to say is, "I want to be like him!"
DR: What is "like you"? I mean if somebody wants to be like you, what is it that they want to be like.
MJ: They want to be excited to wake up everyday; to be excited about what new thing there is. They are excited to talk to people about politics and about being a force. They want to be a sponge, getting information and realizing that we really can all co-exist. They want to acknowledge and understand that it is about "We the People" and not about "I". They would understand that taking care of yourself is taking care of others.

I am just Marcus Johnson.

I am not this big bad jazz piano guy. I am not this super business guy. I am not all of the things that a J.D. / M.B.A., professor, member of the board of directors - I am not that. I am just a guy who has a limited amount of time on the face of this earth, who wants to do whatever he can to make things better for the people that come behind.
DR: Will you share with me an adverse situation that you turned into a triumph?
MJ: My mother had a stroke when I was seventeen. She was my heart. She was the one who guided me. My dad was definitely around; in fact I think I quote him everyday. But my mom was really a super woman. She was the one who helped us with our homework and whipped our buts when we did wrong and she guided us to be as strong as we could be.

One day she goes to work and then the next time that I see her, she has these tubes coming out of her mouth. She could not breathe on her own. Her heart would not work on it s own, her left eye wouldn't shut and there was a nervous disconnect where her arm was just moving back and forth. To have "super woman on the ropes" was very tough for me. It rocked my world! I tried not to deal with it because it hurt so bad. I didn't know whether my mom was going to live or not. Then, I just decided that it was my turn to be a man and, from that, I learned how to be needed.

I see my mom all of time. I call her everyday. I have a growing understanding that my mom is just different now and I don't use what happened to her as an excuse not to succeed. I use the fact that, seventeen years later, my mom is still here, as a motivation to see that -

I have two legs. I can walk. My hands work. I can see. I can close my eyes. Heart is beating, lungs are breathing, ears are hearing...

What in the hell do I have to complain about?!

I could complain, but.... I could give up, but...This is hard, but...They don't like me, but -

I am going to succeed anyway.

I take any adverse situation and try and measure it under that light:

No matter what I will succeed.
DR: Do you consider yourself to be a dreamer?
MJ: Oh God, that's all I do.

All I do is dream...
DR: What is your ultimate dream right now? I know that dreams will tend to change everyday but do you dream about today?
MJ: I did a big deal with Robert Johnson in 2002. He funded my company. That day, I was so comfortable that I just fell asleep in the center of my bed. I felt like I was at a point that I was in control. My dream is to get back to that point with all of this new stuff on my shoulders.

I want to have kids and play all over the world. Screw all of the barriers.

I want to get back to that place of comfort. But really Dana, I live my dream everyday. I create my dream everyday. I believe that as I am living my dream of playing my music, having my own recording studio, empowering young artists and business leaders to follow their passions and their dreams and to allow me to work with them, I believe that everything else will be taken care of.
DR: A hundred years from now what do you want to be remembered for?
MJ: Well, a hundred years from now I want to be alive...

I want to be remembered for a legacy of giving money to schools, for positivity and for being -

a pillar of faith in dark times.
Thanks Marcus!
"Just Doing What I Do"

His fans and creative muse lured him out of the board room and into the studio.

From the Temecula Valley International Jazz Festival:

Johnson's latest CD entitled Just Doing What I Do , boasts decadent instrumental riffs that glide over his signature jazz-hip-hop fused grooves. With songs such as "18th and M," and "Love" the highly anticipated album has already begun to do more that simply turn heads. "The inspiration for this project comes from the past two years of my life," said the musical maverick in an interview. "These years have been a test of my faith in God and my music reflects that," added Johnson.