Songstress, Pianist and Composer, Avery*Sunshine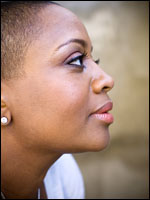 Like the blazin' ball of cosmic energy at the center of the universe, songstress/pianist/composer Avery*Sunshine bursts onto the scene with the release of her self-titled debut project (June, 2010). A consummate musician, she pours light onto the simple complexities of life with a soulful truth-telling that is pensive and real.

Avery*Sunshine got her start singing at church and playing piano in her hometown of Chester, PA. A graduate of Spelman College in Atlanta, GA, she has been paying her dues and making her mark on the Atlanta independent music and entertainment scene. She has lent her voice to the soundtrack for Paramount Pictures' The Fighting Temptations, and in 2005 was hired as lead keyboardist for Tyler Perry's stage play Meet the Browns. In 2007, she was sought out by Grammy- and Tony Award-winning vocal powerhouse Jennifer Holliday to be choral director for the theatrical production of Dreamgirls during the National Black Arts Festival in Atlanta.

Avery*Sunshine made history with daily performances at the Democratic National Convention in Denver, CO and four private events during the 2009 Inauguration of President Barack Obama. She has opened for noted jazz vocalist/pianist Rachelle Ferrell and sultry "Soulsinger" Ledisi; has done background work for gospel icon Karen Clark-Sheard; and has performed with popular industry figures Michael Bublé, David Forster and Anthony Hamilton.

After critical acclaim surrounded her first-ever single, a 2003 house-mix titled "Stalk You" released in Japan, Avery*Sunshine returns with the release of her 13-track debut CD. The production and release of the project has catapulted Avery*Sunshine into a world wind of opportunity and recognition. She played a principal role in Douglas Tappin's musical drama I DREAM directed by Jasmin Guy; debuted at two of the world's most renowned performance venues – the Blue Note (New York) and the Jazz Café (London); made television appearances on Good Day Atlanta, CBS Early Morning-Atlanta, and Live At 9- Memphis; and will open for preeminent blues and recording artist B.B. King at London's Royal Albert Hall in 2011.

Avery*Sunshine's luminosity is being appreciated the world over. She was chosen as iTunes 2010 BEST and featured among "What We're Listening To" on the iTunes homepage. She's been recognized as the SoulTracks 2010 Reader's Choice Best New Artist and was featured as one of JET Magazine's Top 5 Rising Indie Artists. The CD was listed as a 2010 Album of the Year in Atlanta's Creative Loafing, and has received countless glowing reviews from such notable publications/media outlets as The Washington Post, USA Today, Heart&Soul magazine, and Rolling Out.com.

She's been touring incessantly from city to city bringing the shine to Miami, Philly, New York, L.A., Houston and coming soon to a city near you... because... "Everybody Loves the Sunshine!"
Avery Sunshine. A perfect name for someone who exudes warmth and optimism. Her music is as beautiful as her spirit is gorgeous...
DR: Tell me about your life and about your music.
AS: I was born in an industrial town, Chester, Pennsylvania.
My father worked for Scott Paper Company. They make toilet paper, paper towels and napkins. My mother had her own beauty salon. My parents tried to make sure that I had everything that I needed and most of what I wanted. I absolutely have the most supportive parents ever. They left Chester last year and moved to Atlanta to help me with my children. My mother said, "Your career is going to be moving and things are going to be happening. Let me move down here with the kids..."
Thank God for my parents.
I went to Spelman College and majored in piano...
I grew up playing the piano and directing choirs. I never thought that I would be here at this point in my life. I never thought that I would be an artist. I always thought that I would be somebody's choir director or band director. I never thought that I would be doing what I am doing or that people would ever be asking for my autograph.
DR: Do you have a guiding force or a consistent source of inspiration that you have come to rely on?
AS: My children. My children and God. God being first.
My children make me want to be better...
DR: How old are they?
AS: My son is nine and my daughter is ten. They make me get up even when I don't want to get up. They are the main reason that I keep pushing.
I think about being given the opportunity to do what I am doing. One of my older brothers said to me "You never want to look back over your life and regret not doing something". That is something that I live by. Even if there is something that I have done that I regret it's okay because I tried it and I never have to do it again but I don't ever want to look back and feel like I should have tried something that I didn't.
DR: What moves you the most about your performances?
AS: I went to Japan five or six years ago. We had done a house single and there was a big event going on over there. We were on top of Mount Fuji. It was a huge event. I went out on stage about 5:30 in the morning. The sun was coming up. There were thousands upon thousands of people. I walked out on the stage. The people went bananas. I had to turn around and look behind me before I realized it was me that they were going bananas about. There I was with my Japanese brothers and sisters. They didn't understand most of what I was saying because for the most part they don't speak English. I was loving it. They got it! It was amazing! They were crying...the connection that I felt with the audience was amazing.
DR: They didn't speak English so what do you think it was they were connecting to?
AS: It was a God thing. They were connecting to that thing that resides in each of us that goes beyond the barriers of language. It extends far beyond that.
DR: Tell me about your upcoming performance at Brooklyn Academy of Music (BAM).
AS: I am so excited about that!
First of all it's free which means everybody can come. When I found out that I was going to be performing at BAM I was amazed. It is a dream come true.
DR: I think BAM helps to establish a credibility for an artist because "just anybody" doesn't get to play there.
AS: Exactly. What an honor.
DR: So how does that make you feel?
AS: Blessed. Blessed. Blessed.
DR: What are you looking forward to as you contemplate your future and what is next?
AS: I am looking forward to opening performing arts schools around the country. The music departments are almost non-existence in schools in the state of Georgia. It is sickening to know that the importance of music is not taken into consideration in terms of developing a whole person. Music has always played an integral part in making people whole. I say all of this to say that I have got to open up those schools. My daughter's orchestra program was cut. If it had not been for orchestra and glee club in my own school, I wouldn't be where I am today.
Also, I definitely look forward to the day when I'll write a check for $100,000 and it clears...
DR: How do you view yourself in relation to the world or relative to your immediate communities?
AS: It is my responsibility to shine. It is my responsibility to be comfortable with who I am and to love myself. We all have that same kind of responsibility. Absolutely. Whether we want to accept that responsibility or not...
DR: I happen to believe that life just works better when you care, genuinely care, about what happens to other people.
AS: And when you praise God, nothing else really matters...when you praise God you are focused on the good and all of the stuff that doesn't matter doesn't matter. Don't feed the "off energy" or the negativity. Let's stay focused on "the sunshine on our minds"...
DR: Fill in the blank. In my life I hope that _____________
AS: I hope that I am the example that my children need to see to be able to be what they were created to be.
DR: A hundred years from now what do you want to be remembered for?
AS: I want to be remembered for making people feel good. I do. That's what I want to be remembered for. When they mention my name or when people listen to my music and they feel better – I want to be remembered for that. Absoluteiy.
Thanks Avery!
AVERY*Sunshine: Part of BAMcafé Live

Fri, Feb 25, 2011 at 9pm
Bar opens at 6pm

Soul singer Avery Sunshine has a remarkable voice. But it's when that voice meshes with her rich keyboard playing that the perfect circle of soul is truly completed. With roots in Southern gospel, Sunshine has entertained President Obama, performed on the soundtrack to The Fighting Temptations, graced Tyler Perry stage productions, and more. For BAMcafé Live, she'll perform tracks from her self-titled debut album.

Free!