Irene Cara, Oscar Award Winning Actress, Grammy Award Winning Singer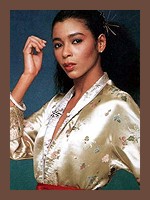 Being Honored by the entertainment industry with an Academy Award, two Grammy's, a Golden Globe, plus a nod from fans via a People's Choice won all within the same year might, for some, be considered the pinnacle of a performer's career. For actress/dancer/singer/songwriter Irene Cara, who garnered all of these awards for co-writing and performing What a Feeling, the title song from the motion picture blockbuster Flashdance, it simply serves as an auspicious beginning to the productive years ahead.

As a child, she began working professionally singing and dancing on Spanish television. She went on to appear in various theatrical shows both on and off Broadway such as the Obie Award winning musical The Me Knowbody Knows and Maggie Flynn starring Shirley Jones and Jack Cassidy.

Her first national TV series was by way of a year's stint on the Electric Company, playing a member of the rock group, The Short Circus delivering musical grammar lessons through the educational program. The series starred Bill Cosby, Rita Moreno, and a very young Morgan Freeman. Ms. Cara had already recorded her first record in Spanish for the Latin Market by age 8 and a Christmas LP in English soon after.

As a pre-teenager, she starred in the title role of her debut motion picture Aaron Loves Angela which lead to the title role in the cult-classic musical drama Sparkle.

Ms. Cara is one of the select group of mega-talented performers who have successfully made the transition from theater-to television, -to records, -to feature films, having combined the latter with a recording career. Television brought Irene international acclaim for serious dramatic roles in two outstanding mini series, Roots: The Next Generation, the critically acclaimed adaptation of Alex Haley's moving novel and The Guyanna Tragedy: The Story of Jim Jones.

However, it was the box office smash Fame, in 1980, which catapulted Irene to stardom. As Coco Hernandez she sang both the title song Fame and the film's second hit single Out There On My Own, resulting in a multi-platinum soundtrack that shot to the top of the charts. She went on to make Academy Award history that year when, for the first time, two songs from one film were nominated in the same category. Additionally, Irene is the only performer ever to sing two Academy Award nominated songs, Fame and Out There On My Own in one evening. It would be Fame that would go on to win the coveted award that year.

Fame's impact, provided largely by Ms. Cara, brought her 1980 Grammy nominations for "Best New Female Artist" and "Best New Pop Artist," as well as a Golden Globe nomination for "Best Motion Picture Actress in a Musical." Billboard Magazine named Irene "Top New Single Artist," while Cashbox awarded her both "Most Promising Female Vocalist" and "Top Female Vocalist."

In 1982 she received the Image Award for Best Actress when she co-starred with Diahann Carroll and Rosalind Cash in the NBC Movie of the Week, Sisters . Further demonstrating her diversity, Irene portrayed Myrlie Evers in the PBS movie about Civil Rights Leader Medger Evers.The film called For Us the Living, cast Irene opposite Howard Rollins of A Soldier's Story fame in which Miss Cara received an NAACP Image Award Best Actress nomination for her portrayal as Mylie Evers.

In 1983, for her success with Flashdance, She was presented with five major awards, including "Top Female Vocalist-Pop Singles,""Black Contemporary Female Vocalist-Pop Singles,""Top Pop Crossover Artist-Black Contemporary Singles," and "Pop Single of the Year." As a songwriter Irene's talent earned her an Academy Award, two Grammy's, a Golden Globe and a People's Choice Award for Flashdance...What a Feeling.

In 1985 she starred opposite Clint Eastwood, Burt Reynolds and Richard Roundtree in the Warner Brothers gangster comedy City Heat in which Irene played a speak easy night club singer. Ms. Cara co-wrote the movie's theme song sung by the legendary jazz vocalist Joe Williams.

She is currently working on a new CD with an all female band of the most talented musicans very aptley called Hot Caramel.

Irene currently has several movie scripts in development.
I can remember sitting there in the theatre with my uncle Billy and my sister Denise. We were spellbound by her magical performance. My Uncle Billy invited to take us to see the movie FAME because he knew that we would love the character Coco, played so brilliantly by Irene Cara.

He was right. We saw that movie four times.

Today the Oscar and Grammy award winning actress, singer and songwriter is busy making her music and creating her art - her way. I spoke with Irene early one morning recently, and she shared with me what she is all about and committed to these days...
DR: Tell me about your life and your work.
IC: My life is very involved around my production company right now.
I have been developing my own production company for the last five years down here in Florida. I have always wanted to have something of my own where I could develop certain projects for myself, whether in music or in film.
I wanted to have a bigger part in creating. I wanted to have something that was mine and an outlet for my creativity.
DR: What is the best part of all of that right now?
IC: Well, it's hard work but it is very rewarding.
I find myself on the phone a lot (laughing) but it has given me an acumen in business that I think is important for an artist to develop. Artists are so often treated like children or circus dogs, expected to jump through hoops and do tricks and go fetch for their managers or their agents or their teachers…Very little of their artistry really gets to be designed and molded by their own vision. I went through decades of that. I made a lot of people rich.
This is a time in my life when I want to turn all of that around.
DR: How do you encourage yourself when you face that difficulty?
IC: It is always good to look at the upside of things especially when you are feeling only the downside.
For instance -
if I had a bigger budget I could hire assistants and have more time during the day for myself. That is something that I am sure will come with time. The upside of that is that I am doing things the way that I want them done. That takes time and energy but I am committed.
DR: So, I understand that you have a "Girl Group?"
IC: We are really a band. "Girl Group" is misleading. They are a dime a dozen. This band is made up of remarkable musicians. They are all total artists. They all sing. They all write. They all read and play music brilliantly. These are accomplished women and not just some kids grabbed off of the street.
I want to put out an album that features Irene Cara - The Artist Now; who I am musically now as well as showcase this group of women.
DR: And who is "Irene Cara-The Artist Now"?
IC: Well I am certainly not what I was twenty years ago. I have gone through my bubble gum stage and I think I did it very well.
This is a very mature record, geared toward an adult audience. It is grown up stuff; some really classic R&B soul stuff. We are not slave to any hip hop nothin'. We are not doing the urban hip hop thing. God only knows we don't need another person saturating that over-saturated market.



Hot Caramel

Irene Cara returns to the music scene with a brand new band and a brand new sound. Having made an indelible mark as a youngster in the 80's with such world wide hits as Fame and Flashdance...What a Feeling she now is ready to embark on a whole new musical career as the leader of a group of brilliant female musicians, song writers, producers, and singers aptly called Hot Caramel. The group's unique blend of hip-pop/R&B/Rock/Jazz/Latin Dance and soul, is sure to set them apart from the barrage of manufactured girl groups in today's market. Sprinkled with scrumptious ballads, the record is simply called Irene Cara Featuring Hot Caramel. So stay tuned for the next chapter in this multitalented icon and creative artist's life.
Our music is original. Some of it has a Latin flavor to it or a Jazz flavor to it. There is a musical grounded-ness to it…
DR: What inspires you?
IC: They do; the musicians that I work with.
Working with them and being around them has been a very emotional experience for me. When you surround yourself with talent that speaks the same language - that is very invigorating.
DR: What else inspires you?
IC: In what way?
DR: Well, what drives you to do what you do? Do you have a driving force?
IC: We all do.
We all want to attain our goals in the way that we envision them. That drives me. I want to make things happen for myself in a way that is fulfilling.
DR: Do you inspire yourself?
IC: Yes. I am inspired by my aspirations. The challenge of making it happen inspires me.
DR: What are the qualities that you value most in other people?
IC: I like people who are genuine. I like people who have integrity. Those are very rare traits.
People are so hung up on BS, feeling like that is the way that the game has to be played. To an extent I guess they may be right but that has always offended me. That is something that I don't like to be around.
DR: What is the quality that you value most in yourself?
IC: I think that I am a very forthright person. That is gotten me into loads of trouble in the past but you get to a place where you can be forthright and have integrity, speak your truth without having other people feel as though you are jumping down their throat.
DR: Do you have a secret passion?
IC: My music is my passion. I have put acting aside for awhile now because I would like to come back and do that again but -
my way.
I got tired of working hard as an actress to be in somebody else's project. Now I am developing scripts and screenplays that I would like to act in…
DR: Are you ever afraid? Scared?
IC: Of course I am. I wouldn't be human if I weren't.
DR: What are you afraid of?
IC: I don't want to get specific about that. I'll keep my fears to myself.
DR: O.K.

Tell me, a hundred years from now what do you want to be remembered for?
IC: I'd like to be remembered as the kind of artist that I truly was.
I don't want to be remembered as some image that other people wanted to put out there about me. That is always a struggle for an artist - having to fight against a certain image that has been created for you that is 99.99 percent of the time -
UNTRUE.
Thanks Irene!