Jim Haynes: Inviting the World to Dinner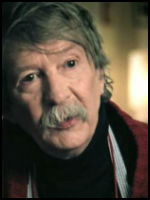 Jim Haynes was born in Louisiana, ran a bookstore in Scotland, created a theater company in London, launched a newspaper in Amsterdam and taught media studies in Paris. Guests at his Sunday dinners have included Allen Ginsberg, R. Crumb and Molly Ivins.
My friend went to Jim Haynes place in Paris for dinner last Sunday night. He had a great time meeting and visiting with people from around the world. Now I am going to "follow" this intriguing Jim Haynes. I want to know more about this man who, every week, invites dozens of complete strangers from all over the world into his home in the interest of promoting community. How incredibly awesome!
Jim Haynes with Gussie Roc
Every week for the past 30 years, I've hosted a Sunday dinner in my home in Paris. People, including total strangers, call or e-mail to book a spot. I hold the salon in my atelier, which used to be a sculpture studio. The first 50 or 60 people who call may come, and twice that many when the weather is nice and we can overflow into the garden.
Every Sunday a different friend prepares a feast. Last week it was a philosophy student from Lisbon, and next week a dear friend from London will cook.
People from all corners of the world come to break bread together, to meet, to talk, connect and often become friends. All ages, nationalities, races, professions gather here, and since there is no organized seating, the opportunity for mingling couldn't be better. I love the randomness.
I believe in introducing people to people.
I have a good memory, so each week I make a point to remember everyone's name on the guest list and where they're from and what they do, so I can introduce them to each other, effortlessly. If I had my way, I would introduce everyone in the whole world to each other.
People are most important in my life. Many travelers go to see things like the Tower of London, the Statue of Liberty, the Eiffel Tower and so on. I travel to see friends, even - or especially - those I've never met.
Thanks for Coming! is the extraordinary story of an American called Jim Haynes.
Jim Haynes came to Scotland in the 1950's with the US Air Force. He has been making things happen around him ever since.

He set up Britain's first paperback bookshop.
He founded Edinburgh's Traverse Theatre.
He started the famous Arts Lab.
He edited International Times. He launched Suck.
He inspired the Wet Dream Festival. Now he is teaching
Media and Sexual Politics at the University of Paris.
To the tens of thousands who have stayed with or talked
with or slept with Jim Haynes he is simply a legend.

This is his story.
What do Pink Floyd, Jimi Hendrix and UFO have in common?
What were John and Yoko doing in a bag in the Albert Hall?
How did Jim meet Mary Whitehouse?
What happened at dinner with Mrs Gandhi?
Why did they cut Mick Jagger's Performance?
Thanks for Coming! tells (almost) all...
In the late '80s, I edited a series of guidebooks to nine Eastern European countries and Russia. There were no sights to see, no shops or museum to visit; instead, each book contained about 1,000 short biographies of people who would be willing to welcome travelers in their cities. Hundreds of friendships evolved from these encounters, including marriages and babies.
This same can be said for my Sunday salon. At a recent dinner, a 6-year-old girl from Bosnia spent the entire evening glued to an 8-year-old boy from Estonia. Their parents were surprised, and pleased, by this immediate friendship.
There is always a collection of people from all over the globe. Most of them speak English, at least as a second language. Recently a dinner featured a typical mix: a Dutch political cartoonist, a beautiful painter from Norway, a truck driver from Arizona, a bookseller from Atlanta, a newspaper editor from Sydney, students from all over, and traveling retirees.
I have long believed that it is unnecessary to understand others, individuals or nationalities; one must, at the very least, simply tolerate others. Tolerance can lead to respect and, finally, to love. No one can ever really understand anyone else, but you can love them or at least accept them.
Like Tom Paine, I am a world citizen. All human history is mine. My roots cover the earth.
I believe we should know each other. After all, our lives are all connected.
OK, now come and dine.
Independently produced for All Things Considered by Jay Allison and Dan Gediman, with John Gregory and Viki Merrick.