My Two Cents: Homecoming Redux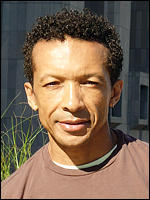 Just in case you've ever wondered if it is too late for you to...
Mike Flynt's life long dream was to return to his old college, Sul Ross State University, and play out his final and senior year of football eligibility. Mike was a linebacker.
After receiving a challenge from a friend, Mike courageously decided that he would go back his alma mater and, at 59 years old, try to get back on his old team.
He ended up selling his home and moving his family back to Texas and enrolled again at Sul Ross State University, and despite all of the cynics, the former linebacker and now grandfather made it onto the 2007 football roster after 37 years.
Holding his own at grueling practices and working through a graduate's degree program, Mike was showing up and playing hard everyday.
Mike Flynt fulfilled his dream.
During the final moments of the last game of the season, Mike was sent in to play at the linebacker position.
"It was amazing, just amazing, to be out there playing with those young men," Flynt said.
"Everyone keeps telling me that when I went in the crowd was awesome, but I didn't hear it."
Mike Flynt proved to a generation of skeptics that weren't sure if they could believe, that age is sometimes just a number and that indeed that it is never too late.
That's my two cents (for whatever it's worth).
Auguste Roc
auguste@danaroc.com