My Two Cents: Mind Control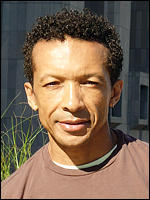 The first round of the best-of-7 games NBA 2006-2007 playoff series had just begun and, as usual, I knew that there would be no upsets - the top teams always remain the top teams.
I watched a few games and, although they were entertaining they were predictable because everybody knows that the favored teams will eventually win their series.
I wondered how frustrating it must be to be playing for the team that was not, according to anybody, supposed to win. How does it feel to be on an 8th seeded team knowing that an 8th seed has never beaten a 1st seeded team in NBA playoff history - that is until NOW.
The first seeded and highly favorite, Dallas Mavericks, entered the playoffs with the best NBA regular season record, 67 wins - 15 losses. Dallas, highlighting MVP candidate 6'11'' Dirk Nowitzski, went to the finals last year and lost the NBA Championship in game seven to the Miami Heat.
This year, however, the Mavericks returned bigger and badder and with a vengeance, fast breaking by each of their opponents with their intentions set on ultimately winning the NBA Finals.
But first, Dallas had to get by their first round opponent, the 8th seeded Golden State Warriors 42-40 record with which they barely got into the playoffs.
Golden State got everybody's attention by winning the opening round game and beating the Dallas Mavericks -- at Dallas.
This is when I tune in because I am clear that something unpredicted is about to take place.
What seemed to me to be the determining factor in Golden State's victory was the leadership that was demonstrated by 6'3'' point guard, Baron Davis. Relentless and unstoppable, Davis attacked the formidable Mavericks with such irreverence that he led his team to an unprecedented NBA upset. They had done the un-doable and defeated Dallas 111-86 winning the series in Game 6.
The Maverick's head coach was asked to comment on Baron Davis performance, and he said, "You talk about a guy who refuses to lose. He refused to let us stop him."
Perhaps that is true but the real reason things turned out the way that they did was:
Baron Davis believed.
He knew that in order to win he had to believe and he caused his teammates to do the same. The Golden State Warriors had to believe that they could and dismiss the facts that said "it could never happen".
Baron Davis caused his team to rise up and accept the truth that -
anything is possible and miracles do happen...
That's my two cents (for whatever it's worth),
Auguste Roc
auguste@danaroc.com