My Two Cents: In Spite Of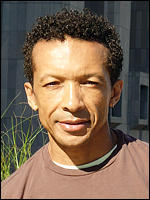 Have you ever been plagued by a set of circumstances or a series of setbacks that threaten to take you out of the game?
Dana Abdul-Razzaq is a 21 year old sprinter who will proudly represent her country at the 2008 Summer Olympic Games in Beijing.
Her country is Iraq.
Through sheer determination and unyielding commitment Dana Abdul-Razzaq successfully shattered the Iraqi record for the 200 meter run and then went on to earn a place this year as the only women athlete on the Iraqi Olympic track team.
Most of us would assume that Dana Abdul-Razzaq's path to the Olympics has been mired with barriers and obstacles, but few of us would be able to imagine how high, how deep and how wide her difficulties have actually been.
Dana trains twice a day, six days a week for three to four hours at a time, in facilities that have been so badly damaged as a result of the ongoing violence and bombings in Iraq, that it is a no less than remarkable that she has made it this far.
The war imposes its consequences daily, reminding the citizens of Dana, as she looks toward Beijing, of its horrific capabilities. Tragic accounts, at one time only imagined, have now become unfortunate reality for Dana as she and her coach, during a training session, came under sniper fire.
"She was dodging the bullets like in action movies," her coach recalled. "She ducked to miss a bullet which hit a tree."
Abdul-Razzaq has also had to contend with strong conservative religious views in a country where little tolerance is shown for those who step out of bounds; including, whether a women should be allowed to compete athletically.
But on the 8th of August, 2008, Dana Abdul-Razzaq, against seeming insurmountable odds, will join Olympic athletes from all around the world -
for a chance to be called the very best.
We all face challenges that tempt us to want to quit sometimes, and -
we've all had opportunities to learn about how somebody, somewhere else has had to overcome something we can't imagine going through, yet somehow they not only survived, they managed to triumph.
That remarkable spirit resides in us all.
Don't quit.
That's my two cent's (for whatever it's worth).
Auguste Roc
auguste@danaroc.com