My Two Cents: OVERCOME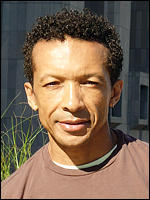 I look forward to the week-in-sports highlights as much as anyone.
The highlights underscore the best part of what sports has to offer.
In football, when a running back breaks through a gang of tacklers, races down the sideline, dives over the goal line and, with a couple of guys still hanging on to his leg scores the winning TOUCHDOWN -
In basketball, when the ball thrown from half court towards the hoop to a teammate, positioned to do the impossible, released in a single motion, over arms reaching desperately toward the sky, drops obediently in the hole for TWO --
In soccer, when the corner kick is taken, when the striker is knocked down, when he miraculously maintains his balance, and on one leg he contorts his body, escorting the ball toward the corner of the net and SCORES --
It's what we wait to see -
all over again.
These are the moments that make watching sports so great, and the single thing that makes these moments great are the obstacles and the challenges that are necessary to do the impossible and leave the fans in AWE.
In life just like in football or basketball or soccer or any other game, you're going to have to embrace the challenges and do what might seem impossible -
if you want the highlights.
That's my two cent's (for whatever it's worth).
Auguste Roc
auguste@danaroc.com