My Two Cents: Extra Ordinariness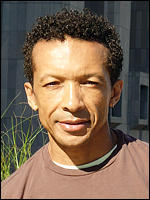 The challenge:
Can you deal with your circumstances and yet, still keep your eye on the victory?
In high school, I played on a nationally ranked basketball team that had a winning tradition. On our team, talent was abounding. All the guys on the team had tremendous basketball skills; a lot of them were gifted athletes.
I remember the first day of try outs my junior year -- a wealth of basketball talent showed up to compete for only twelve available positions on the roster.
Tryouts ran an entire week and the play was extremely competitive and the conditioning work was grueling. But everyday, every player would step onto the court and give everything he had, physically and mentally. Everyone would give everything for a shot to make the team.
At the end of each day of competition there would be a list of names posted; the names of the players who had gotten cut. This would continue until the coaches decided on the final twelve.
By mid-week I began recognizing which players were still in the running to make the team. These were all guys with the skills. But there was one fellow who stood out to me more than any of the others.
Terry wasn't the most talented, even though he was a very good shooter, and he was certainly not the most physically gifted.
Terry was born with one arm -
and,
his approach to the game was unparallel.
As hard and as tough everyone else would play, Terry would manage to turn it up another notch. He refused to let his physical limitations stop him. His tenacity on defense was relentless. His hustle-style-of-play became contagious and we all caught the bug, including the coaches. If there was a way to succeed, he found it and so, on the last day of tryouts -
Terry's name was on the list of twelve that made the team.
Terry made a huge impression on all of us back then. Before meeting Terry, I had preconceived notions of what had to be in place, circumstances and all, to be a winning athlete. After playing with Terry that season, those notions were put to rest.
Can you deal with your circumstances and yet, still keep your eye on the victory?
Why not take a page out of Terry's playbook:
Keep your eye on the victory and overcome your circumstances.
That's my two cent's (for whatever it's worth).
Auguste Roc
auguste@danaroc.com