My Two Cents: Fear Not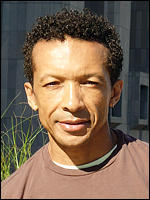 Last week Muhammad Ali celebrated his 65th birthday.
I've been following Ali since I was a kid and one of my most treasured childhood memories was the first time that I got to see him fight on television.
He was flawless.
I remember marveling at his ability to dance elegantly around the ring and position himself strategically around his opponent. I was always in awe by his constant movement and his ability to dodge and maneuver....still am...
Ali's opponents were as captivated by his orchestrated performances as were his fans.
I remember how, without warning Ali would change gears. From out of no where the dance would stop as he brought us back into the reality of just how vicious a heavyweight contest can be. Unleashing a thunderous blow, striking his opponent's jaw like a bolt of lightening, sending him straight to the ground.
Ali, looking down yet standing tall, raises his arms in a toast, not only to his victory but to his mastery.
I have been a fan for most of my life.
I appreciated the chance this week to reconnect with some of my favorite Muhammad Ali memories as I watched the network sports shows present old clippings and tapes in celebration of his 65th birthday.
I took advantage of the opportunity to recall just how inspiring and intriguing Ali is as I wondered --
What were the specific characteristics that allowed him to do what he did?
What is it that distinguishes him from all the other great athletes?
Ali was quoted once as saying:
It's lack of faith that makes people afraid of meeting challenges... I believe in myself.
His is the story of a man who clearly believes in himself. He is a man who exudes faith.
When he would predict the rounds in which he would knockout his opponents, when he would declare victory and claim to be - "The Greatest", when he stepped up and stood alone, taking a courageous and unpopular social and political position for which he was punished, when he successfully took on opponents that no one ever believed that he could defeat to regain his championship status after losing it twice -
He was demonstrating his faith.
Muhammad Ali believed in himself... He just believed...
That's my two cent's (for whatever it's worth).
Auguste Roc
auguste@danaroc.com